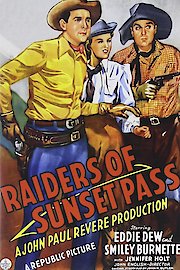 Watch Raiders of Sunset Pass
"Manpower Shortage Hits The West... So... The Cowgirls Take Over And... Patrol The Range, Seething With Lawlessness And Danger!"
Passed
1943
57 min
Raiders of Sunset Pass is a classic Western film from 1943 that promises an action-packed experience. The movie stars Eddie Dew as Bob Patterson, Smiley Burnette as Frog Millhouse, and Jennifer Holt as Betty Baker. From the beginning, the audience is plunged into the story's conflict. Our protagonist, Bob Patterson, is a fearless cowboy who, along with his sidekick Frog Millhouse, has been tasked with protecting Sunset Pass from the notorious outlaw Blackjack and his gang. But this task is easier said than done. As the movie progresses, the audience is treated to a thrilling series of shootouts, chases, and narrow escapes as Bob and Frog try to keep the outlaws at bay. It's an all-out war, with the bad guys refusing to back down and Bob and Frog determined to protect their town no matter what. One of the most engaging aspects of Raiders of Sunset Pass is the dynamic between Bob and Frog. Eddie Dew's Bob is the quintessential cowboy hero, tough and uncompromising, while Smiley Burnette's Frog is a more lighthearted figure, bringing some much-needed comic relief to the film. But despite their different personalities, the two have a close bond that is evident throughout the movie. It's clear that they trust each other implicitly, and their camaraderie is a joy to watch on screen. In addition to the action and the camaraderie, Raiders of Sunset Pass also features a healthy dose of romance. Jennifer Holt's Betty Baker is a feisty and independent woman who catches Bob's eye early on. But Betty is not content to simply sit on the sidelines and watch the men do all the fighting -- she's just as willing to join in and help defend her town. As the movie progresses, Bob and Betty's relationship deepens, adding another layer of emotional depth to the story. It's refreshing to see a female character who is not just a passive love interest, but an active participant in the action. Of course, no Western would be complete without a few memorable villains, and Raiders of Sunset Pass delivers in spades. The most memorable of these is undoubtedly Blackjack, the leader of the outlaw gang. With his gruff demeanor and imposing presence, Blackjack is a formidable adversary, and his interactions with Bob and Frog are some of the movie's most tense and exciting moments. Overall, Raiders of Sunset Pass is a movie that delivers on all fronts. It has action, romance, humor, and memorable characters, all set against the backdrop of the rugged Western frontier. It's a classic film that is sure to entertain audiences of all ages and leave them satisfied.