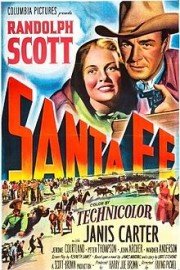 Watch Santa Fe
Approved
1951
1 hr 27 min
Santa Fe is a classic Western movie from 1951 that offers an exciting blend of action, romance, and betrayal. The film tells the story of Britt Canfield, a former gunslinger turned rancher who finds himself caught in a web of intrigue when a group of outlaws begins terrorizing the town of Santa Fe. Along the way, he must grapple with his past, navigate a complex web of relationships, and risk everything he holds dear to save the people he cares about.
One of the standout features of Santa Fe is its top-notch cast. Randolph Scott delivers a powerful performance as Britt Canfield, a enigmatic protagonist with a rich and complicated backstory. Janis Carter is equally impressive as Judith Chandler, Canfield's love interest, who is as sharp-tongued and quick-witted as she is beautiful. Jerome Courtland plays Tom, Canfield's youthful protégé, who learns that becoming a gunslinger isn't as glamorous as it seems.
The plot of Santa Fe is tightly woven and suspenseful. The movie introduces the viewer to a cast of complex and intriguing characters, each with their own motivations and secrets. As the plot unfolds, the viewer is drawn deeper into the seedy underbelly of Santa Fe, where corruption and violence run rampant. As the tension builds, Canfield must rely on his wits, his gun-slinging skills, and his trusty horse to stay alive and protect the people he cares about.
One of the most impressive aspects of Santa Fe is its breathtaking cinematography. The movie is set against the backdrop of the rugged and untamed New Mexico wilderness, and the camera work does an excellent job of capturing the majesty and beauty of the terrain. Viewers are treated to panoramic shots of sweeping vistas, rugged canyons, and dusty mesas, all of which lend an air of authenticity and urgency to the film.
Fans of classic Western movies will no doubt appreciate the film's action-packed set pieces. From high-speed horse chases to gunfights that leave the streets of Santa Fe running red with blood, there's never a dull moment in this film. The action is expertly choreographed and executed, making for some truly thrilling moments that will leave viewers on the edge of their seats.
Of course, no classic Western would be complete without its share of romance, and Santa Fe delivers in spades. The chemistry between Scott and Carter is electric from start to finish, and their tender moments together provide a welcome respite from the film's more intense scenes. However, don't be fooled into thinking that the romance in this film is saccharine or overwrought - it's a natural and subtle part of the story that enhances the characters' development and enriches the overall narrative.
All in all, Santa Fe is a classic Western movie that hits all the right notes. From its masterful cinematography to its expertly crafted plot and memorable performances, this film is a must-see for fans of the genre. Whether you're a die-hard cowboy movie aficionado or a casual viewer looking for some entertainment, Santa Fe is sure to satisfy.
Santa Fe is a 1951 western with a runtime of 1 hour and 27 minutes. It has received moderate reviews from critics and viewers, who have given it an IMDb score of 6.1.