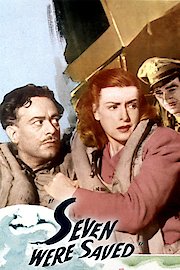 Watch Seven Were Saved
"Daring men facing death over... Dangerous seas in a thrilling... Drama that will leave you breathless!"
NR
1947
1 hr 11 min
A plane on its way from the Philippines to America crashes into the ocean after a botched takeover attempt. Among the passengers are a nurse, and an amnesiac and a newlywed couple all just released from a Japanese prison camp. The survivors cling to life in a rubber raft, awaiting a unit of the Army Air Force Air Sea Rescue, which flies over the South China Sea to their rescue. But during their many days on the raft, a myriad of secrets and suspicions have already been exposed, and a long-term love affair may be in peril. Directed by William H. Pine. Cinematography by Jack Greenhalgh. Written by Maxwell Shane and Julian Harmon.