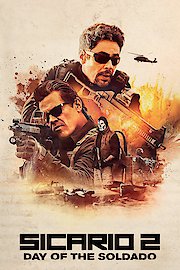 Watch Sicario: Day of the Soldado
"No rules this time"
R
2018
2 hr 2 min
61
Sicario: Day of the Soldado is a 2018 crime thriller directed by Stefano Sollima and written by Taylor Sheridan, a sequel to the critically acclaimed 2015 film Sicario. The movie stars Benicio Del Toro and Josh Brolin, reprising their roles from the first film, along with Isabela Merced in a prominent supporting role. The movie takes place in the United States-Mexico border region, where escalating tensions between cartels have led to an increase in trafficking and violence. Del Toro's character Alejandro and Brolin's character Matt are both recruited by the US government to take down a cartel leader responsible for a terrorist attack on American soil. The film opens with a scene depicting terrorists crossing the US border with the help of a Mexican cartel. In response, the US government enlists Matt and his team to start a new operation on the border that they hope will prevent further terrorist attacks. Matt turns to his former colleague, Alejandro, to help him take down the cartel responsible for smuggling the terrorists into the US. The operation is complicated when a new cartel leader emerges, leading to escalating violence and chaos in the region. The two protagonists soon find themselves caught in a deadly game of cat-and-mouse, as they struggle to rid the border of both cartels and prevent further violence. As the story unfolds, the lines between good and evil become increasingly blurred. Matt and Alejandro's mission becomes less clear-cut, and they begin to question the motives and actions of their own government. The movie explores themes of violence, corruption, and the moral complexities of the war on drugs. One of the standout elements of Sicario: Day of the Soldado is the powerful performances of its cast. Del Toro embodies the complex and ruthless Alejandro with understated intensity, while Brolin's Matt adds a touch of dry humor to the proceedings. Isabela Merced is a revelation as a young girl caught up in the violence of the border, bringing heart and vulnerability to her role. The film is also a technical achievement, thanks to strong direction from Stefano Sollima and stunning cinematography by Dariusz Wolski. The movie features a number of breathtaking set pieces, including an intense car chase and a tense firefight in the middle of the desert. Overall, Sicario: Day of the Soldado is a gripping thriller with stellar performances and stunning visuals. While it lacks some of the nuance and social commentary of the first film, it more than makes up for it with its thrilling action and gut-wrenching drama. Fans of the original will find much to enjoy here, and newcomers will be drawn in by the film's gripping storyline and intense action sequences.