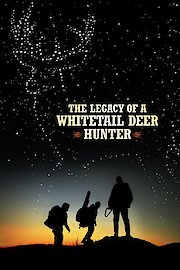 Watch The Legacy of a Whitetail Deer Hunter
TV-14
2018
1 hr 23 min
49
The Legacy of a Whitetail Deer Hunter is a 2018 comedy-drama film directed by Jody Hill, starring Josh Brolin, Danny McBride, and Montana Jordan. The movie follows the story of Buck Ferguson (Josh Brolin), a famous deer hunter who is trying to reconnect with his estranged son Jaden (Montana Jordan) by taking him on a hunting trip. Buck is determined to make the trip a success, as he is filming it for his hunting show, which he hopes will cement his legacy as a great hunter.
Buck and Jaden set off on their adventure, accompanied by Buck's trusted cameraman, Don (Danny McBride). However, as they make their way deeper into the forest, Jaden realizes that he isn't cut out for the hunting lifestyle and just wants to go home. Buck, on the other hand, is more focused on capturing the perfect shot for his show, even if it means exploiting Jaden's discomfort.
Throughout the journey, father and son face numerous challenges, including facing off with a rival group of hunters who threaten to ruin their trip. As the trip goes on, Buck begins to realize that his focus on capturing the perfect shot has come at the cost of his relationship with his son, and he is forced to reevaluate his priorities.
The Legacy of a Whitetail Deer Hunter offers a unique blend of humor and drama, with Josh Brolin and Danny McBride delivering standout performances. Brolin is perfectly cast as Buck Ferguson, a larger-than-life personality who is equal parts lovable and frustrating. Montana Jordan also shines as Jaden, portraying the character's conflicted emotions with authenticity and heart.
The film also features stunning cinematography, with sweeping shots of the wilderness that perfectly capture the beauty and danger of the forest. The hunting scenes are realistic and intense, adding a layer of excitement to the story.
Overall, The Legacy of a Whitetail Deer Hunter is a poignant exploration of the relationship between a father and son, and how the pursuit of greatness can sometimes come at the cost of what truly matters. It is a film that will make you laugh, cry, and leave you with a newfound appreciation for the bond between family members.
The Legacy of a Whitetail Deer Hunter is a 2018 comedy with a runtime of 1 hour and 23 minutes. It has received mostly poor reviews from critics and viewers, who have given it an IMDb score of 5.5 and a MetaScore of 49.