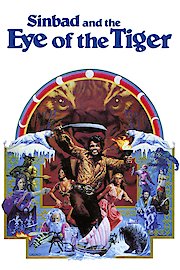 Watch Sinbad and the Eye of the Tiger
"New!! Sinbad's Boldest And Most Daring Adventure!"
G
1977
1 hr 53 min
Sinbad and the Eye of the Tiger is a swashbuckling adventure movie from 1977. It is the third movie in the Sinbad trilogy, preceded by The 7th Voyage of Sinbad and The Golden Voyage of Sinbad. The movie has an all-star cast, including Patrick Wayne as Sinbad, Jane Seymour as Princess Farah, and Taryn Power as Dione. The plot of the movie revolves around Sinbad's quest to help Princess Farah save her brother, who has been transformed into a baboon by an evil sorcerer. The sorcerer, named Zenobia, is determined to prevent the prince from reclaiming his throne, and Sinbad and his crew must overcome many obstacles to reach their goal.
The film begins with Princess Farah arriving in Sinbad's home port of Marabia to seek his help. She explains that her brother, Prince Kassim, has been transformed into a baboon by Zenobia, who wants to control the throne for herself. Sinbad agrees to help and sets sail with his crew, which includes his loyal comrade, Salim, and the beautiful Dione.
As they journey towards Kassim's homeland, Sinbad and his crew face a number of obstacles. They are attacked by a giant walrus, encounter a tribe of Amazons, and are chased by a giant cyclops. Along the way, Sinbad and Dione fall in love, adding a romantic subplot to the adventure.
When they finally reach Kassim's homeland, they discover that Zenobia has built a magical tower to prevent them from reaching her. Sinbad and his crew must find a way to climb the tower and defeat the sorcerer, which requires them to face one last challenge: a giant sabre-toothed tiger.
Throughout the movie, the special effects are impressive, especially considering the time period in which the movie was made. The stop-motion animation used to bring the creatures to life is impressive, and the set design is intricate and detailed.
The cast also delivers solid performances. Patrick Wayne, son of the legendary actor John Wayne, makes a convincing Sinbad, imbuing the character with a sense of adventure and bravery. Jane Seymour is also excellent as Princess Farah, conveying a regal and dignified presence. Taryn Power, daughter of movie stars Tyrone Power and Linda Christian, is charming as Dione, adding a touch of glamour to the proceedings.
Overall, Sinbad and the Eye of the Tiger is a thrilling adventure movie that will appeal to fans of swashbuckling tales. Its impressive special effects, solid performances, and epic scope make it a worthy addition to the Sinbad trilogy.
Sinbad and the Eye of the Tiger is a 1977 action movie with a runtime of 1 hour and 53 minutes. It has received moderate reviews from critics and viewers, who have given it an IMDb score of 6.4.