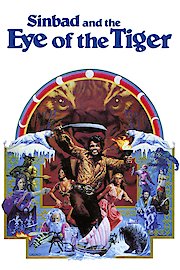 Watch Sinbad and the Eye of the Tiger
"New!! Sinbad's Boldest And Most Daring Adventure!"
G
1977
1 hr 53 min
Sinbad is a sailor and prince in search of a wife. He travels to Charak to request the hand of Princess Farah. He quickly finds himself inadvertently embroiled in intrigue rooted in local politics. Shortly after Sinbad's arrival, the scheming evil stepmother of Princess Farah turns her brother, Prince Kassim, into a baboon to prevent him from being crowned caliph. She is plotting to put her own son in power. If the spell cannot be broken within seven moons, Rafi will become caliph instead. The good guys sail to a wise man on an island to find out how to save Kassim. In the course of trying to resolve the problem, they must deal with a robotic bronze Minotaur called the Minaton, a saber toothed tiger, a troglodyte, a giant walrus, the dangers of a frozen wasteland, a mysterious pyramid and the dangers of an ocean voyage. Meanwhile, they must also deal with an upset Prince Kassim whose ability to communicate is limited by his baboon form while his humanity slowly slips away, and he becomes increasingly just an animal.