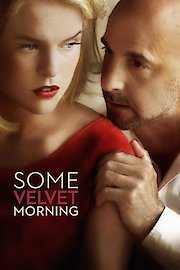 Watch Some Velvet Morning
"Unsettling and unforgettable"
NR
2013
1 hr 22 min
54
Some Velvet Morning is a drama film released in 2013 by director and writer Neil LaBute. Starring Stanley Tucci and Alice Eve, the film takes place in a single location in Brooklyn, New York, and primarily involves two characters: Fred and Velvet. The story begins with Fred ringing the doorbell at Velvet's doorstep. After an awkward reunion, Fred reveals that he has left his wife and family to be with Velvet, whom he had not seen for four years. As the two spend the day together in Velvet's apartment, they engage in a long and winding conversation that reveals the complexity of their relationship and the reasons for their separation. The film's narrative is largely driven by the dialogue between Fred and Velvet, which is intense and emotionally charged. Throughout their conversation, they explore the love, passion, and betrayal present in their past relationship, and the ways that they have changed since they last saw each other. As they talk, the power dynamics in their relationship shift, with both characters vying for control over the other. Despite the claustrophobic setting and limited number of characters, Some Velvet Morning manages to maintain a sense of intrigue and suspense throughout. As the conversation between Fred and Velvet becomes increasingly fraught, the audience is left wondering where the story will go and what the ultimate outcome of their relationship will be. One of the strengths of Some Velvet Morning is the strong performances of the two lead actors. Stanley Tucci brings a raw vulnerability to the role of Fred, who is alternately charming and threatening. Alice Eve is equally compelling as Velvet, a complex and nuanced character who is not easily defined. Together, they create a palpable chemistry that makes the audience invest in their story. Another highlight of the film is the way it explores themes of power, control, and gender dynamics in relationships. The conversations between Fred and Velvet touch on issues like the role of men and women in society, the nature of desire, and the difficulties of intimacy. The film does not shy away from exploring uncomfortable truths, and as a result, Some Velvet Morning is a thought-provoking and emotionally resonant film. While the narrative of Some Velvet Morning is somewhat slow-paced, it ultimately builds to a climax that is both surprising and satisfying. The film's ambiguous ending leaves room for interpretation, and viewers are left to grapple with the themes and questions raised by the story. Overall, Some Velvet Morning is a well-crafted and compelling film that showcases the talents of its two lead actors. It is a thought-provoking exploration of love, desire, and power, and is sure to stay with viewers long after the credits roll.