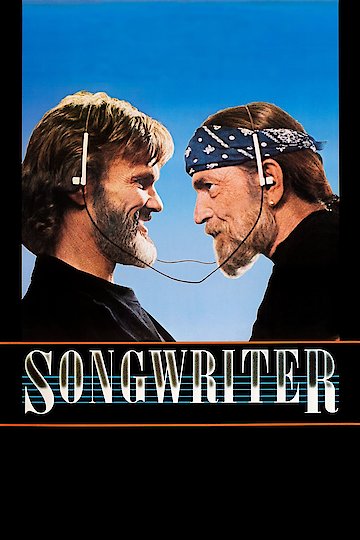 Watch Songwriter
"He got mad when they took his money and his business. But when they tried to take his songs... Nobody ever had a better time getting even."
R
1984
1 hr 34 min
76
Songwriter is a 1984 musical drama film that tells the story of a struggling country songwriter named Doc Jenkins (Willie Nelson) and his dysfunctional relationship with his friend and fellow songwriter, Blackie Buck (Kris Kristofferson). Set in the small town of Ditty, Texas, the film follows Doc as he tries to make a name for himself in the music industry while dealing with personal issues such as his rocky marriage and his gambling addiction.
The film opens with Doc and Blackie performing together on stage at a local dive bar. It's clear from the outset that the two men are very different: Doc is a reserved, introverted figure who shies away from the limelight, while Blackie is a charismatic showman who revels in the attention of the crowd. Despite their differences, the two men share a deep bond based on their love of music.
As the film progresses, we see Doc trying to navigate the cutthroat world of the music industry. He writes songs for a sleazy producer named Rodeo Rocky (Richard Sarafian), who promises him fame and fortune in exchange for his talents. However, Doc soon realizes that Rocky is more interested in exploiting him than promoting his music, and he finds himself struggling to maintain his integrity in the face of the industry's corrupt practices.
Meanwhile, Doc's personal life is falling apart. His wife, Honey (Melinda Dillon), is fed up with his gambling habit and threatens to leave him if he doesn't clean up his act. Doc tries to turn his life around by attending Gamblers Anonymous meetings, but he finds it hard to resist the lure of the casino.
Throughout the film, we see Doc and Blackie collaborating on a song that they hope will be their big break. The song, called 'Living Proof', is a beautiful ballad that showcases their combined talent as songwriters. However, when Rodeo Rocky hears the song, he tries to steal it from them, leading to a tense confrontation between the two men.
Despite the obstacles that stand in their way, Doc and Blackie never lose sight of their love of music. They continue to write and perform together, even when their personal problems threaten to tear them apart. In the end, they realize that their friendship is more important than fame or fortune, and they find a way to make peace with their respective demons.
Overall, Songwriter is a poignant and moving film that explores the complex relationship between art and commerce. It paints a vivid picture of the music industry in the 1980s, where talent and integrity often took a backseat to celebrity and profit. However, at its heart, the film is a tribute to the power of music to bring people together, even in the most difficult circumstances. Fans of country music and classic films alike will find much to enjoy in this timeless story of friendship and redemption.
Songwriter is a 1984 drama with a runtime of 1 hour and 34 minutes. It has received mostly positive reviews from critics and viewers, who have given it an IMDb score of 6.2 and a MetaScore of 76.