Watch Stephen King's It
"From the King of terror, a chilling new dimension in horror."
Stephen King's It is based upon his novel of the same name. The story is about a foreign life form on Earth that has the ability to transform itself into its prey's worst fears thus exploiting all phobias that the prey has. For most of the movie the life form takes the form of a sadistic clown in which a set of outcast teenagers vow to destroy the life form. The kids are successful but are later called back to their town as adults in order to rid the town of the clown once more.
Cast

Studio

Director

Tommy Lee Wallace

Language

English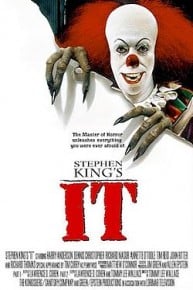 Stephen King's It News
'Pet Semetary' Remake Coming in 2019
Get ready for more Stephen King remakes after the success of 'It'.
Now We Know When 'It' Sequel Will Arrive
The follow-up to this fall's horror blockbuster now has a definite release date.
'It' Wins Another Weekend at the Box Office (Probably)
The horror hit takes the top spot again this week in a photo finish.
'It' Faces Some Real Competition This Weekend
Last week's top movie won't be the only horror film in town this week.
Jennifer Lawrence Takes on 'It' This Week
A battle between horror movies will heat up the box office this weekend.
Can 'It' Save Hollywood?
Does the horror movie have what it takes to get people going to the movies again?
'It' Smashes Box-Office Records
Stephen King and his horrible clown had a blockbuster weekend at the box office.
New Trailer for Stephen King's 'It' is Terrifying
The latest version of Stephen King's classic horror novel hits theaters in September.

Watch Stephen King's It Trailer
Watch Stephen King's It Online - Watch online anytime anywhere: Stream, Buy, Rent
Stephen King's It is currently available to watch and stream, buy, rent on demand at Vudu, Google Play, FandangoNow, YouTube VOD, iTunes online.