Watch Stephen King's It
"From the King of terror, a chilling new dimension in horror."
In this horror thriller, a sinister force lives beneath a small Maine town and threatens the town's children in the form of a sinister clown. A group of intrepid kids find themselves as the town's only defense against the ancient horror. This 1990 version of Stephen King's story should not be confused with the 2017 feature-film adaptation.
Cast

Studio

Director

Tommy Lee Wallace

Language

English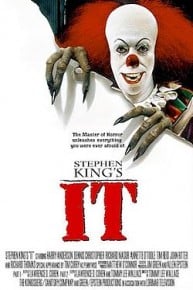 Stephen King's It News
'Pet Semetary' Remake Coming in 2019
December 08, 2017 @ 7:13 am PST
|
Read More

Will 'Blade Runner' Conquer the Box Office?
October 05, 2017 @ 6:54 am PST
|
Read More

'Happy Death Day' Gets Off to a Solid Start
October 13, 2017 @ 11:48 am PST
|
Read More

'It' Wins Another Weekend at the Box Office (Probably)
October 01, 2017 @ 2:03 pm PST
|
Read More


Watch Stephen King's It Trailer

Stephen King's IT - 1990 Trailer|2:16
Watch Stephen King's It Online - Watch online anytime anywhere: Stream, Download, Buy, Rent
Stephen King's It is currently available to watch and stream, download, buy, rent on demand at Hulu, Vudu, Google Play, FandangoNow, YouTube VOD, iTunes online.