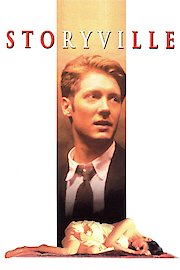 Watch Storyville
"A candidate's private moment can all too quickly become public record."
R
1992
1 hr 53 min
In the 1992 movie Storyville, James Spader plays Cray Fowler, a young and ambitious lawyer who lands in New Orleans to represent a wealthy businessman, Forniquet, who is accused of murdering a prostitute. Fowler seems to have it all figured out, but as he navigates the steamy and shady setting of Storyville, a historical red-light district, he realizes things are far more complex than they seem at first sight.
Fowler initially approaches the case with a cool and calculated demeanor that wins him favor with Forniquet's wife, Lee, a seductive and mysterious woman played by Joanne Whalley. However, as Fowler struggles to unravel the case, he finds himself drawn into a web of corruption and deceit that could cost him more than just his legal reputation.
The movie is set in the 1980s and features a colorful portrayal of New Orleans, its jazz scene, its decadent nightlife, and its mix of cultures and traditions. The other main character is Clifford Fowler, a former congressman and Cray's father, who is played by Jason Robards. Clifford is a man of influence and charisma, but also of dark secrets and hidden agendas that affect his son's career and personal life.
As Cray digs deeper into the case, he discovers that the murdered prostitute, Broussard, had ties to many powerful and dangerous people, from politicians to gangsters to voodoo priestesses. He also learns that Forniquet had many enemies and had engaged in shady business deals, making him a prime suspect in the eyes of the police and the public.
The tension builds up as Fowler faces mounting obstacles and unexpected revelations, including a love affair with Lee that puts him in conflict with Forniquet and his own moral principles. As the trial approaches, Fowler must decide whether to defend his client at all costs or to reveal the truth and risk his own safety and reputation.
Storyville is a crime drama with elements of noir, romance, and political thriller. James Spader delivers a convincing performance as a smart and ambitious lawyer who finds himself in over his head. Joanne Whalley shines as the enigmatic Lee, who holds her own secrets and motivations. Jason Robards adds gravitas and complexity to his portrayal of Clifford Fowler, a character with shades of gray.
The movie's direction by Mark Frost, co-creator of Twin Peaks, is evocative and atmospheric, capturing the mood and flavor of New Orleans and its underworld. The jazz soundtrack by Wynton Marsalis adds to the ambiance and mood of the movie.
Overall, Storyville is a well-crafted and engaging movie that offers a glimpse into a fascinating and troubled corner of American history and culture. It is a story of ambition, corruption, and redemption that keeps the viewer engaged until the final verdict.
Storyville is a 1992 drama with a runtime of 1 hour and 53 minutes. It has received moderate reviews from critics and viewers, who have given it an IMDb score of 5.7.