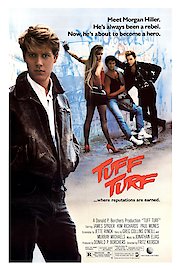 Watch Tuff Turf
"Meet Morgan Hiller. He's a rebel about to become a hero."
R
1985
1 hr 52 min
37
Tuff Turf is a classic 1980s teen drama movie that tells the story of a young man named Morgan Hiller (James Spader) as he navigates the harsh realities of life in a tough Los Angeles neighborhood. Morgan's family has recently moved from Connecticut to LA and he struggles to fit in with the rough crowd at his new school. Morgan is immediately attracted to Frankie (Kim Richards), a beautiful and rebellious girl who is dating Nick (Paul Mones), a tough guy and leader of a group of gang members. Despite Nick's efforts to intimidate him, Morgan refuses to back down and quickly becomes a target for the gang.
Morgan is not without his own fighting skills, however, earning him the respect of the gang members, particularly Jimmy (Robert Downey Jr.), who quickly becomes Morgan's best friend. Despite warnings from their respective friends, Morgan and Frankie develop a strong bond, with Frankie finding comfort and escape from her troubled home life in their shared rebellion against authority.
As Morgan becomes more involved with the gang, he is pulled into a web of violence and criminal activity. Morgan is forced to make a difficult decision when he learns that the gang is planning a violent and deadly attack on a rival gang. Morgan must choose between loyalty to his friends and doing what is right.
At its core, Tuff Turf is a coming-of-age story about a young man who learns the hard way about the consequences of his choices. The movie is full of classic 80s themes such as teenage rebellion, first love, peer pressure, and the struggle to fit in. In addition to its solid plot, Tuff Turf is notable for its fantastic soundtrack, featuring songs from iconic 80s artists such as The Jim Carroll Band and Marianne Faithfull.
The movie also features a strong cast of up-and-coming young actors, many of whom would go on to become major stars in their own right. James Spader delivers a memorable performance as Morgan, perfectly capturing the character's mix of toughness and vulnerability. Kim Richards's portrayal of Frankie is equally compelling, conveying the character's emotional depth and intense energy. Paul Mones is well-cast as Nick, the menacing leader of the gang, and Robert Downey Jr. shines in his early role as Jimmy.
In many ways, Tuff Turf is a quintessential 80s teen drama, capturing the raw energy and emotion of youth culture in that era. However, the movie also delivers a more substantive message about the power of individual choice and the long-term consequences of our actions. Despite its age, Tuff Turf remains a relevant and engaging movie that is sure to resonate with audiences today.
Tuff Turf is a 1985 drama with a runtime of 1 hour and 52 minutes. It has received mostly poor reviews from critics and viewers, who have given it an IMDb score of 6.0 and a MetaScore of 37.