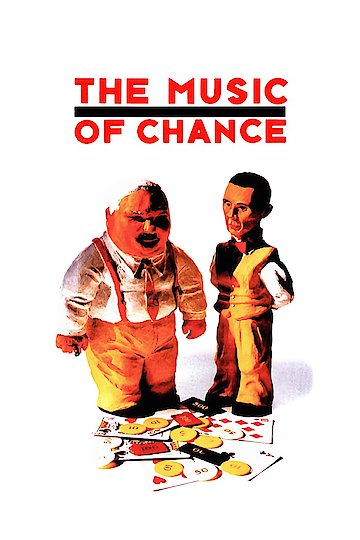 Watch The Music of Chance
"Jack Pozzi is about to take the biggest gamble of his life …"
R
1993
1 hr 38 min
The Music of Chance is a 1993 drama film directed by Philip Haas and based on the novel of the same name by Paul Auster. The film stars James Spader and Mandy Patinkin in the lead roles, with M. Emmet Walsh in a supporting role. The film follows Jim Nashe (Spader), a down-on-his-luck gambler who, after inheriting a small fortune from his father, decides to take to the open road in search of adventure. Along the way, he meets a mysterious drifter named Jack Pozzi (Patinkin) who convinces Nashe to invest his entire inheritance in a high-stakes poker game. After losing everything, Nashe and Pozzi find themselves in the debt of two wealthy men, Bill Flower and Willie Stone (played by Walsh and Charles Durning, respectively). The pair offer Nashe and Pozzi a way out of their debt by agreeing to work on a construction project on their sprawling estate. However, the true nature of their deal soon becomes apparent: Nashe and Pozzi are to build a wall in the middle of their employers' property, working without pay until the job is complete.
As the days turn into weeks and then into months, Nashe and Pozzi become increasingly restless and disillusioned with their situation. The monotony of their work is broken only by occasional visits from the estate's other inhabitants, including a mute Asian woman and a pair of identical twins who dress alike and speak in unison. Meanwhile, Flower and Stone become increasingly obsessive about the wall, going so far as to have it painted white and hiring a professional musician to play concerts on it for their own amusement.
As the project nears completion, Nashe and Pozzi hatch a desperate plan to regain their freedom. However, their efforts are soon thwarted by a sudden and unexpected turn of events, leading to a shocking and tragic conclusion.
The Music of Chance is a haunting and atmospheric film, highlighting the themes of isolation, obsession, and the struggle for personal freedom. Spader and Patinkin both deliver solid performances, with Spader capturing the desperation and disillusionment of his character with understated intensity. Walsh and Durning are also excellent in their roles, portraying the wealthy Flower and Stone with a mix of haughty arrogance and brittle vulnerability.
Haas's direction is also top-notch, with the film's muted color palette and stark, minimalist sets helping to create an air of foreboding and unease. The film's score, composed by Philip Glass, is another standout element, with its haunting, pulsing rhythms underscoring the film's themes of fate and inevitability.
Overall, The Music of Chance is a thought-provoking and poignant film that explores the darker side of human nature with sensitivity and nuance. It may not be a crowd-pleaser, but for those willing to delve deeper into its themes and characters, it offers a powerful and unforgettable cinematic experience.
The Music of Chance is a 1993 drama with a runtime of 1 hour and 38 minutes. It has received mostly positive reviews from critics and viewers, who have given it an IMDb score of 7.1.