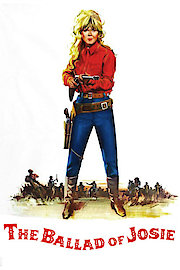 Watch The Ballad of Josie
"IT'S QUICK-DRAW DORIS!"
TV-PG
1968
1 hr 42 min
The Ballad of Josie is a Western about a woman left to fend for herself when her drunkard husband fatally falls off a balcony. She decides that she will become a rancher and raise sheep, which unfortunately creates a great deal of havoc in the cattle-raising area of Wyoming where she lives. A large part of the plot involves the townspeople's unreasonable anger over her choice to raise sheep and their increasingly vicious attempts to either make her change her mind or drive her out altogether. With the district attorney and another man on her side, she tries to prevail.