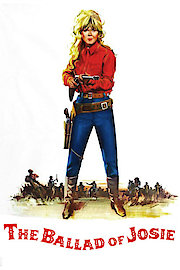 Watch The Ballad of Josie
"IT'S QUICK-DRAW DORIS!"
Approved
1968
1 hr 42 min
The Ballad of Josie is a 1967 Western comedy film directed by Andrew V. McLaglen and starring Doris Day, Peter Graves, and George Kennedy. Set in the 19th-century American frontier, the film follows Josie Minick (Day), a resourceful and hardworking widow who faces discrimination and hardship from her fellow townspeople due to her gender and status.
The story begins with Josie's arrival in the small town of Ardentville, where she inherits a rundown ranch from her late husband. Despite her lack of experience in ranching, Josie is determined to make a success of her new venture and win the respect and admiration of her neighbors. However, her efforts are met with skepticism and ridicule from the town's menfolk, who believe that a woman has no place in the rugged and dangerous world of ranching.
Undeterred, Josie recruits the help of an unlikely ally, widower and ex-lawman Arch Ogden (Graves), who becomes her friend and confidant. Together, they face a series of challenges, from hostile weather to bandits to corrupt businessmen, all of whom seek to drive Josie out of business and claim her land for themselves.
As Josie and Arch work to overcome these obstacles, they develop feelings for each other but are reluctant to act on them due to their respective pasts. Josie is still grieving the loss of her husband and has sworn never to love again, while Arch harbors a dark secret that threatens to destroy their budding romance.
The film also features a memorable performance by Kennedy as a ruthless cattle baron who sees Josie as a threat to his own empire and will stop at nothing to eliminate her. His henchmen are a ragtag bunch of misfits who add a touch of humor and levity to the film, particularly in their interactions with Josie's feisty teenage daughter Elizabeth (Lynley).
Despite its serious themes of sexism and greed, The Ballad of Josie is primarily a lighthearted and comedic film that showcases Day's talents as a singer and actress. The film's title song, penned by composer Burt Bacharach and lyricist Hal David, became a hit for Day and is still remembered as one of her signature tunes.
Overall, The Ballad of Josie is an enjoyable and entertaining Western that features strong performances from its cast and a charming story that celebrates the resilience and determination of the human spirit.