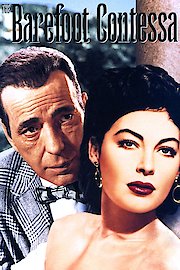 Watch The Barefoot Contessa
"The world's most beautiful animal!"
NR
1954
2 hr 10 min
70
The Barefoot Contessa is a 1954 romantic drama film that stars Humphrey Bogart, Ava Gardner, and Edmond O'Brien. Directed by Joseph L. Mankiewicz, it tells the story of a rising starlet, Maria Vargas (Ava Gardner), who rises from the impoverished streets of Madrid to become an international celebrity, but at a great cost. The movie is structured as a series of flashbacks, with a celebrated director, Harry Dawes (Humphrey Bogart), narrating the story of Maria Vargas. Harry meets Maria in Spain, where she is living as a dancer in a cabaret. She catches Harry's eye, who decides to cast her in his next movie. As Maria's career takes off, she becomes a superstar, thanks to Harry's writing, and the public's fascination with her beauty, grace and exoticism. Soon, she is the highest-paid actress in the world, with luxury and glamour at her feet. Maria attracts attention not just from fans, but also from the wealthy jet set, who flock to her parties and mansions. Harry becomes Maria's closest confidante, and he witnesses everything that comes along with her new found fame. However, Maria soon tires of the shallow excesses of the movie industry and becomes quite introspective, revealing a deep and enigmatic personality that has been hiding beneath her glamorous exterior. She falls in love with a rich and charming count, Vincenzo Torlato-Favrini (Rossano Brazzi), but their relationship is jeopardized by her past and the secretive nature of Hollywood. At the heart of the movie is the contrast between the glamour and glitz of the movie industry and the inner world of its leading lady. As much as Maria appears to have everything she could desire, she struggles with the emptiness and loneliness of fame. The movie also explores the complex relationship between Harry and Maria as she tries to reconcile her past and present, searching for meaning and purpose in a world that can be overwhelming and cruel. The performances in the movie are first class, with Ava Gardner giving a stunning portrayal of Maria Vargas, a woman interrupted. Despite her beauty and wealth, she is always attuned to the dark forces that threaten her happiness. Gardner imbues her role with vulnerability and an alluring presence that makes it impossible not to root for her. Humphrey Bogart's Harry Dawes is worldly and wise, jaded by the film industry's inner workings but a born storyteller. Edmond O'Brien is Grif, a sycophantic publicist, who embodies the excesses of Hollywood and the shallow world of fame. The Barefoot Contessa is a clear-eyed look at the world of cinema, from the endless game of promotion and publicity to the way its stars are treated as commodities. Mankiewicz exhibits a wry sense of humor and an ear for dialogue that makes the movie a delight to watch. The movie is anchored in themes of glamour, love, betrayal, and redemption that are still relevant today. In conclusion, The Barefoot Contessa offers a poignant and engrossing view of the price of fame, and the costs of being a movie star. The film features strong performances, beautiful locations and exquisite costuming, making it both an entertaining and intellectual movie experience.