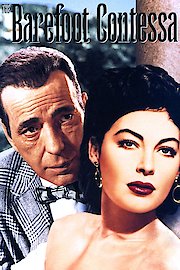 Watch The Barefoot Contessa
"The world's most beautiful animal!"
NR
1954
2 hr 10 min
The Barefoot Contessa is a film about a Hollywood director and the friendship he forms with the Spanish dancer he discovers. Once a very prominent director, Harry Dawes is now forced to work for an unpleasant businessman who wants to make a movie. They see free spirit Maria Vargas dancing in Madrid and feel she is perfect for the role. Maria dislikes the businessman but feels Harry is trustworthy and agrees to the proposition. She becomes a star, but still feels empty. She longs for love in her life, as Harry has with his wife. Finding it, however, is difficult.