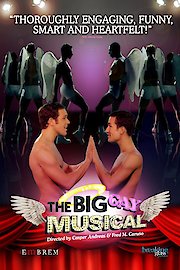 Watch The Big Gay Musical
"Just the way God made 'em!"
NR
2009
1 hr 30 min
The Big Gay Musical is a comedic and flamboyant musical that premiered in 2009 at the NewFest Film Festival in New York City. The film follows two talented actors, Paul and Eddie, who are hired to star in a new off-Broadway musical that celebrates the lives and struggles of gay men. As they prepare for opening night, they navigate their own personal and romantic relationships, faced with the challenges of acceptance, identity, and self-discovery. Lena Hall stars as a powerful and vivacious drag queen named Cherry, who both mentors and challenges the two lead characters throughout the film. Daniel Robinson shines as the charming and naive Paul, who falls in love with the sweet and understated Ryan, played by Joey Dudding. Together, they navigate a series of musical numbers that are both touching and hilarious, ranging from operatic duets to high-energy dance routines. The film takes on a number of issues that are relevant to the LGBTQIA+ community, such as self-love, coming out, gay marriage, and HIV/AIDS. However, it does so in a way that is both light-hearted and inclusive, seeking to celebrate the diversity and resilience of queer culture. Additionally, the film features a number of celebrity cameos and in-jokes, such as a hilarious parody of Andrew Lloyd Webber's Phantom of the Opera. In terms of its style, The Big Gay Musical is a highly stylized and theatrical production, with bold costumes, set designs, and choreography. The film is directed by Casper Andreas and features a score by Fred Sauter, with songs such as "Best Friend", "Rainbow Pride", and "The Big Black Hole". The music ranges from heartfelt ballads to catchy pop tunes, with memorable lyrics that showcase the film's wit and charm. Overall, The Big Gay Musical is a highly entertaining and uplifting film that celebrates the joy and heartbreak of the LGBTQIA+ community. It uses the language of musical theater to tell a story that is both poignant and hilarious, making it an instant cult classic for queer audiences everywhere.