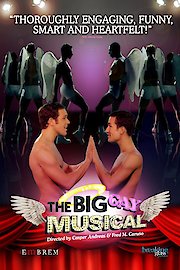 Watch The Big Gay Musical
"Just the way God made 'em!"
NR
2009
1 hr 30 min
The Big Gay Musical is a 2009 movie about two young actors making their way in the tough world of show business. One actor is gay and does not hide it. The other actor is gay as well, but is keeping it a secret from his parents. The openly gay fellow is trying to decide between leading a life with many experiences, or settling down with one person. The other actor is struggling with the idea of revealing his true self to his very conservative parents. Chock full of music and dance numbers, The Big Gay Musical is lively, funny and fast-paced. Songs feature such varied characters as angels who tap dance, televangelists, and more.