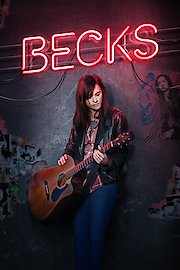 Watch Becks
"Life. Love. Lyrics."
TV-14
2018
1 hr 30 min
64
Becks is a bittersweet indie film directed by Elizabeth Rohrbaugh and Daniel Powell. The movie premiered in the U.S. Dramatic Competition at the Sundance Film Festival in 2017 and stars Lena Hall as the titular character Becks, a singer-songwriter who moves back to her hometown in St. Louis after a recent heartbreak. Though she is returning to familiar surroundings, Becks finds that her relationships are different and strained from when she fell in love with the town and her girlfriend years ago. The film has a 90-minute runtime and is largely focused on character-driven storytelling with intense scenes of musical performances interspersed throughout.
Becks starts the way it means to go on, with the main character performing on stage to an enraptured crowd. It is immediately clear that Becks is a talented musician but when her girlfriend of ten years breaks up with her and begins seeing someone else, Becks finds herself at a loss. She decides to move back to Missouri to live with her mom (Christine Lahti) and sort herself out. When Becks audition for a job at a local bar during an open mic moments after meeting a college student named Elyse. After Elyse compliments Becks on her performance, Becks invites her to come to her first gig of the season that same evening.
When Becks performs that night, she invites Elyse on stage to accompany her on the keyboard. Elyse's presence indicates that Becks is not over her ex, but also that she is open to new people and experiences. Gradually, the relationship between Becks and Elyse builds from a flirty friendship to something more complicated. However, as with every coming-of-age story, there are trials and tribulations for both Becks and Elyse, including Elyse's religious family and Becks's lingering feelings for her ex-girlfriend.
One of the most noticeable and refreshing things about Becks is that it is a queer romance that feels organic and real. The movie doesn't exist to prove a point or push an agenda; rather, it presents a relatable, honest story about two women connecting emotionally and physically. The relationship between Becks and Elyse is really just one part of the movie but the compelling chemistry of the two actresses makes it possible to string the two characters along a seemingly sweet attraction that rings true and fresh.
Another element that Becks handles with complexity and nuance is the difficulties of chasing your dreams. Not everyone ends up becoming a superstar, and Becks is left to confront the fact that her music career might not work out the way she wants it to. She is also forced to deal with the root of her creative block, her heartbreak, and how it is still affecting her. This vulnerability is conveyed in her music throughout the picture and her songwriting acutely reflects her feelings of limbo; she is filled with angst and uncertainty, and the writing of her expressive lyrics is one way that she is able to contextualize these emotions.
Overall, Becks portrays the intersections of love, self-discovery and music in a very contemplative way, with a great performance from Lena Hall in the title role. Never once does it sacrifice character development for plot, choosing instead to focus on tender moments between Becks and Elyse, Becks and her family or Becks and her music. While a lot of dramas take on love and heartbreak from a sad cliché, Becks brings a fresh, sunny intensity to the proceedings, a perfect movie for those who need a reminder to take chances and move on.
Becks is a 2018 drama with a runtime of 1 hour and 30 minutes. It has received moderate reviews from critics and viewers, who have given it an IMDb score of 6.3 and a MetaScore of 64.