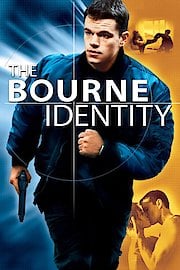 Watch The Bourne Identity
"He was the perfect weapon until he became the target."
PG-13
2002
1 hr 58 min
68
The Bourne Identity, released in 2002, is a thrilling action movie based on a novel by Robert Ludlum. The movie stars Matt Damon in the lead role, as well as Franka Potente and Chris Cooper in important roles. The movie follows the story of an amnesiac man (Matt Damon) who is found floating in the sea by a fishing boat. The man has no memory of his past, and his only clue to his identity is a microchip embedded under his skin, which contains a bank account number in Zurich. As the man tries to piece together his past and identity, he finds that men are trying to kill him. With the help of a girl (Franka Potente) who he meets in Zurich, he sets out to find out who he is and why people are trying to kill him. The story begins with the man being pulled from the Mediterranean Sea by fishermen. He has been shot several times and has no memory of who he is or how he got there. All he has is a few clues: a bank account number in a Swiss bank, a mysterious scar on his back, and an uncanny ability to speak several languages. The man travels to Zurich to investigate the bank account, hoping to find some answers. While there, he is attacked by a group of armed men, and he soon realizes that he is being hunted by his own people. He is forced to flee for his life, with the help of a woman named Marie (Franka Potente). As the man and Marie travel through Europe, they are pursued by a shadowy group of CIA operatives, led by the sinister Ted Conklin (Chris Cooper). The man discovers that he has a set of lethal skills, including hand-to-hand combat and exceptional marksmanship. He also learns that his name is Jason Bourne, a highly trained CIA assassin who has gone rogue. The movie is filled with action sequences, car chases, and close-quarters fights. The fight scenes are well-choreographed and intense, showcasing Matt Damon's physical abilities. The movie also has several thrilling set pieces, including a car chase through the narrow streets of Paris and a tense rooftop pursuit. The Bourne Identity is more than just an action movie, however. It is a story about identity, memory, and the search for truth. The central character, Jason Bourne, is a man who has lost everything - even his own name. He is a man searching for his true identity and trying to uncover the secrets of his past. Matt Damon's performance as Jason Bourne is impressive, and he brings a sense of vulnerability and confusion to the character. Franka Potente is also excellent as Marie, a woman who is caught up in the danger and intrigue of Bourne's situation. The movie's pacing is fast, and the plot moves along quickly, with plenty of twists and turns to keep the audience engaged. The movie's cinematography is excellent, with some beautiful shots of European cities and landscapes. Overall, The Bourne Identity is an excellent action movie with a strong plot, well-drawn characters, and thrilling action sequences. It is a movie that will keep the audience on the edge of their seats, right up until the very end.