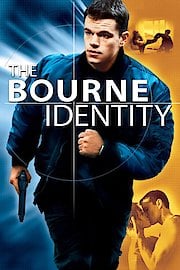 Watch The Bourne Identity
"He was the perfect weapon until he became the target."
PG-13
2002
1 hr 58 min
68
A man is found floating in the Mediterranean sea with two gunshot wounds in the back. He carries on him the number to a safety deposit box in a chip in his leg. When he comes to he has no idea who he is, or why he was in the Mediterranean sea. He later finds out that he is unusually fluent in several different languages, and that he has other abilities. He tries to remember why he was in the sea or who he was but he can't remember anything. He decides once the ship docks on shore that he would check the safe deposit box to see if maybe it had something to remind him of who he is. Once he opens the safe deposit box he finds inside, many different passports with different names and his picture on them. He also finds large sums of money in different currencies and a gun. He takes everything but the gun and takes on the name of the first passport, Jason Bourne. As he leaves the bank a bank teller calls a CIA program who want to kill Jason for a failed assassination attempt he was part of. He meets a woman Marie who drives him to an apartment of one of his alias'. There they are both attacked by a man sent by the CIA who Jason tries to interrogate but his attempts fail. Inside the mans bag are two wanted posters with Jason and Marie's photos on them. The man jumps out the window and dies. Marie is in shock but she and Jason leave the apartment and take off in her car to abandon it. They are chased by the police and once they have evaded them, they wipe the car clean and leave it. Eventually Jason realizes that he used to be an assassin. When he confronts the men of the CIA he starts to receive flashbacks of his last mission which he failed due to children being nearby. He tells the CIA that he is leaving their program for good and warns them not to follow him. When he goes to leave he kills two CIA Agents who were eavesdropping on the conversation.