Watch Mr. & Mrs. Smith
"Smart and sexy."
Two professional assassins meet while on the run in Bogata. They provide each other a cover story. They naturally fall in love and marry, all without ever revealing the truth about themselves to each other. Years of hiding their real lives from one another leave the marriage empty and unsatisfactory. They both pretend to have more prosaic jobs. With this façade of a sedate upper class life together, they are slowly boring each other to death.
However, their deep, dark secrets come out when they are each hired to take out the other. Their personal differences begin to quickly get worked through during a fierce battle against each other. They start by taking verbal potshots at each other while also taking real shots. This verbal repartee amidst flying bullets and debris leads to the most meaningful conversation they have had in years. When they are finally face to face, neither can kill the other. It turns out they still love each other. They then form a united front to stand up to the people who really want them dead. They band together and work as a team to survive an assault by overwhelming numbers which should be impossible to survive.
|
2005
|
2 hr
|

/

10
Cast

Studio

Director

Doug Liman

Language

English
More Like Mr. & Mrs. Smith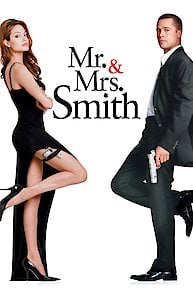 Watch Mr. & Mrs. Smith Trailer
Watch Mr. & Mrs. Smith Online - Watch online anytime anywhere: Stream, Buy, Rent
Mr. & Mrs. Smith is currently available to watch and stream, buy, rent on demand at Amazon, Vudu, Google Play, FandangoNow, YouTube VOD, iTunes online.