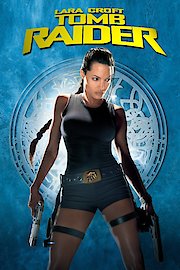 Watch Lara Croft: Tomb Raider
"Born into Wealth. Groomed by the Elite. Trained for Combat."
PG-13
2001
1 hr 40 min
33
Lara Croft Tomb Raider is a movie that came out in 2001. This movie was the first of two movies and also is accompanied by a video game series. The main character of this movie is Lady Lara Croft, who resides in England. Her father is missing and has been for several years at this point. As the movie opens, she is busy getting a diamond from what seems to be an Egyptian tomb. She is attacked and dismantles a robot. The audience now becomes aware that she is in her house, and this was just a training exercise run by her assistant. Her butler attempts to busy her to keep her mind off of her father's disappearance, since this happens to be the night that he left all those years ago. In the late evening, she awakes from a dream because she hears a strange clock ticking. She finds the strange clock that was hidden from view under the stairs. Hoping that it could be a clue about her father's disappearance, she quickly asks Bryce to dismantle it and find out why it suddenly started to tick after all those years. After the entire night of digging, she takes the device that the clock contained to an old friend of the family to see if he could find something about it that would help her find her father. He tells her that he does not know anything and sends her on her way. She runs into a man whom she hates due to his lack of respect for the ancient ruins that he is exploring. He typically cares about the profit that the job brings rather than the knowledge that it brings. She runs back home feeling disappointed that her search did not bring her closer to finding her father.