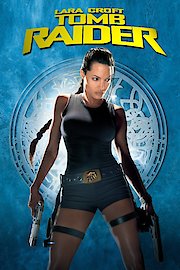 Watch Lara Croft: Tomb Raider
"Born into Wealth. Groomed by the Elite. Trained for Combat."
PG-13
2001
1 hr 40 min
33
Lara Croft: Tomb Raider is a 2001 action movie that follows Lara Croft, the famous tomb raider, as she embarks on a mission to find a powerful artifact that can alter time. The movie is directed by Simon West and stars Angelina Jolie as Lara Croft, the tough and resourceful adventurer who is equally skilled in combat and solving puzzles. The cast also includes Jon Voight, Iain Glen, and Daniel Craig.
The movie opens with a glimpse into Lara's world. She is shown practicing her combat and acrobatic skills in her lavish mansion, which is filled with artifacts and relics from her many expeditions. As soon as she completes her training, she is contacted by an old friend and fellow adventurer named Manfred Powell (Iain Glen). Manfred tells Lara about the existence of an ancient artifact called the Triangle of Light, which has the power to control time. If the artifact falls into the wrong hands, it could mean the end of the world as we know it. Manfred also tells Lara that her father, Lord Croft (Jon Voight), who disappeared years ago, may have had the key to finding the Triangle of Light.
Lara immediately sets out on a journey to find the artifact and locate her father's key. Her first destination is Cambodia, where she meets up with her trusty sidekick, Bryce (Noah Taylor). Together, they decipher Lord Croft's cryptic message and find the first piece of the key. However, things quickly take a turn for the worse when a group of masked assailants ambush Lara and steal the piece of the key.
Undeterred, Lara decides to continue her quest and heads to Venice, where she meets up with an archaeologist named Alex West (Daniel Craig). Alex is initially skeptical of Lara's abilities, but he eventually joins her on her mission to find the rest of the key. Together, they face a series of challenges, including a deadly trap-filled tomb and an underwater cave filled with monsters.
As Lara and Alex get closer to finding the Triangle of Light, they discover that Manfred Powell is not who he seems. He is actually working for a secret organization called the Illuminati, which wants to use the artifact to gain ultimate power. Lara and Alex are forced to race against time to prevent the Illuminati from getting their hands on the Triangle of Light and save the world from destruction.
Throughout the movie, Angelina Jolie gives a standout performance as Lara Croft. She perfectly embodies the tough, confident, and fearless character and brings an intensity and energy to every scene. Her fight scenes are especially impressive, as she seamlessly combines her physicality and agility with her intelligence and strategic thinking.
The supporting cast also shines, particularly Jon Voight as Lara's father, who brings a gravitas and emotional depth to the role. Iain Glen is suitably menacing as Manfred Powell, while Daniel Craig provides a charming and charismatic foil to Angelina Jolie's Lara.
One of the highlights of the movie is its stunning visual effects, which bring to life the exotic locations and fantastical elements of the story. The action sequences are thrilling and well-orchestrated, and the cinematography and editing add to the film's overall excitement and energy.
In conclusion, Lara Croft: Tomb Raider is an enjoyable and entertaining action movie that successfully captures the spirit of the iconic video game character. Angelina Jolie delivers a standout performance as Lara Croft and is supported by a talented cast and impressive visual effects. The movie is a must-watch for fans of the video game franchise and anyone who enjoys a good action-adventure film.
Lara Croft: Tomb Raider is a 2001 adventure movie with a runtime of 1 hour and 40 minutes. It has received mostly poor reviews from critics and viewers, who have given it an IMDb score of 5.7 and a MetaScore of 33.