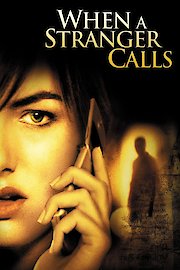 Watch When a Stranger Calls
"Whatever You Do, Don't Answer The Phone."
PG-13
2006
1 hr 26 min
27
When a Stranger Calls is a 2006 horror film that tells the story of a babysitter who gets terrifying phone calls during her job. The film is a remake of the original 1979 movie of the same name, directed by Fred Walton. The movie opens with Jill Johnson, played by Camilla Belle, going to a mansion in the countryside for a babysitting job. Jill is initially excited to have landed the gig, as it will pay her $100 to watch two children while their parents attend a party. The parents give her the rundown of the house and their children's routine, and then they leave for their party.
Soon after, Jill gets a phone call from an unknown number, and the caller hangs up. She assumes it is just a prank call and continues with her job. However, she soon receives more calls from the same number, with the caller's voice getting increasingly threatening and creepy. Jill calls the police, who tell her the calls are coming from inside the house – a classic horror movie trope.
What follows is a terrifying game of cat and mouse between Jill and the stranger. The film creates a tense atmosphere as Jill tries to protect herself and the children, while the stranger taunts her and slowly tries to break into the mansion.
The movie is visually stunning and well-shot, with the mansion and its grounds providing an eerie setting for the story. The scenes where Jill is alone, with only the sounds of the stranger's breathing and footsteps in the background, are particularly well-executed and chilling.
Camilla Belle delivers a solid performance as the teenage babysitter who gradually realizes she is in more danger than she initially thought. Belle's portrayal of a scared but determined young woman is convincing, and she is able to carry the movie's tense atmosphere on her shoulders.
Tommy Flanagan plays the stranger, who is never given a name. Flanagan's performance is understated but effective. He creates a sense of menace and unpredictability with just his voice and movements, and he is a worthy antagonist for Belle's character.
Katie Cassidy plays one of Jill's friends in a supporting role, but she doesn't have much to do besides provide emotional support for Jill over the phone.
Overall, When a Stranger Calls is a solid and entertaining horror movie. The film's simple premise allows it to focus on building tension and suspense, and it succeeds in creating a scary atmosphere. The movie may not break any new ground in the horror genre, but it is a well-made and effective thriller that is sure to keep viewers on the edge of their seats.
When a Stranger Calls is a 2006 horror movie with a runtime of 1 hour and 26 minutes. It has received mostly poor reviews from critics and viewers, who have given it an IMDb score of 5.1 and a MetaScore of 27.