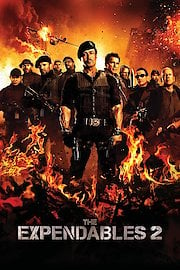 Watch The Expendables 2
"Back for War."
R
2012
1 hr 43 min
51
In The Expendables 2, Sylvester Stallone, Liam Hemsworth, and Randy Couture team up as part of the elite mercenary group known as the Expendables, tasked with completing dangerous and life-threatening missions for hire. The film starts with the Expendables on a mission to rescue a Chinese businessman who has been taken hostage by a group of Somali pirates. The mission goes smoothly, and the Expendables return to their headquarters to celebrate their victory. However, they are soon approached by CIA agent Mr. Church (Bruce Willis), who offers them a new mission. The Expendables are tasked with retrieving a package from a downed airplane in Albania, but things quickly take a dark turn when one of their own is killed during the mission.
Determined to avenge their fallen comrade, the Expendables set out on a quest for revenge, but they soon find themselves up against a powerful enemy – a ruthless arms dealer named Vilain (Jean-Claude Van Damme) who will stop at nothing to get his hands on the package. With the help of their newest member, Billy the Kid (Liam Hemsworth), the Expendables must face off against Vilain and his army of mercenaries in a battle for survival.
The Expendables 2 is an action-packed film that doesn't skimp on the thrills. There are plenty of explosions, shootouts, and hand-to-hand combat scenes to keep viewers on the edge of their seats. However, what sets this movie apart from other action films is its star-studded cast. With the likes of Sylvester Stallone, Arnold Schwarzenegger, Bruce Willis, Chuck Norris, and Jean-Claude Van Damme all sharing the screen, the Expendables 2 is a veritable who's who of action movie icons.
Despite the heavy focus on action, the film still manages to introduce some humor into the mix. The banter between the Expendables is entertaining and gives the film some much-needed lightheartedness amidst all the chaos. Liam Hemsworth's character, Billy the Kid, adds a touch of heart to the film, becoming a surrogate little brother to the tough-as-nails Expendables team.
While the Expendables 2 is a classic action movie, it's not without its flaws. The dialogue can be cheesy at times, and the plot can feel a bit thin at points. However, this is a movie that doesn't take itself too seriously, and viewers shouldn't either. It's a fun, nostalgic ride that pays homage to the classic action movies of the past, and for that reason, it's worth a watch.
Overall, The Expendables 2 is a fun, action-packed ride that's sure to please fans of the genre. Its star-studded cast and relentless action scenes make for an entertaining cinematic experience. While it might not be the most thought-provoking or well-written movie, it certainly delivers on its promise of high-octane thrills. So grab some popcorn, buckle up, and get ready for a wild ride with the Expendables.
The Expendables 2 is a 2012 action movie with a runtime of 1 hour and 43 minutes. It has received moderate reviews from critics and viewers, who have given it an IMDb score of 6.6 and a MetaScore of 51.