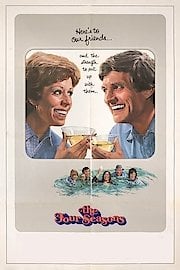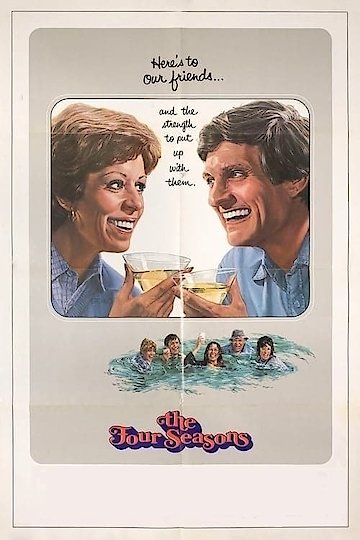 Watch The Four Seasons
"Here's to our friends... and the strength to put up with them."
PG
1981
1 hr 47 min
55
The Four Seasons is a heartwarming comedy-drama from 1981 that tells the story of three couples and their enduring friendship over the course of a year. The film stars Alan Alda, Carol Burnett, Len Cariou, and a talented ensemble cast who bring their complex characters to life with humor and depth. The main characters are three close couples who have been friends for many years. They have a tradition of taking a vacation together every year, during each of the four seasons. The first season is spring, which is filled with new beginnings and fresh starts. The next is summer, a time of passion, excitement, and heat. Autumn is the season of change, when the leaves fall and everything shifts. Finally, winter represents the endgame, a time of reflection, contemplation, and acceptance.
The first couple is Jack and Kate Burroughs, played by Alan Alda and Carol Burnett. Jack is a successful businessman, while Kate is a former concert pianist turned housewife. They have two children, and their marriage is characterized by Jack's obsessiveness and Kate's frustration with his controlling behavior. However, they love each other deeply and have a strong bond that helps them weather the storms of life.
The second couple is Nick and Anne Callan, played by Len Cariou and Sandy Dennis. Nick is a philandering, sarcastic lawyer who thinks little of his wife's feelings. Anne is a timid woman who is both fed up with Nick's infidelities and in love with him. Their relationship is a roller coaster, with Nick often pushing Anne to the brink of despair.
The third couple is Greg and Ginny, played by Jack Weston and Rita Moreno. They are a fun-loving, bickering couple who have been together for years. They are passionate about each other, but their relationship is not without its challenges. Greg is a hypochondriac who overreacts to every little illness, while Ginny is a free spirit who sometimes feels trapped in marriage.
Throughout the course of the movie, the three couples navigate various challenges that test their relationships. Jack and Kate struggle to deal with Jack's controlling nature when he tries to force their son to follow in his footsteps. Nick and Anne have to face the reality of Nick's cheating when Anne discovers a love letter in his suitcase. Greg and Ginny have to grapple with the fact that they may not be able to have children.
Despite these difficulties, the couples remain united through their love for each other and their enduring friendship. They laugh and argue and cry together, building memories that will last a lifetime. Along the way, they also learn important lessons about the nature of love, friendship, and family.
The Four Seasons is a charming, nostalgic movie that will tug at your heartstrings and leave you smiling. It captures the essence of friendship and love in a way that is both honest and uplifting. The characters are relatable, flawed, and lovable, and the performances are top-notch.
The movie was written and directed by Alan Alda, who also stars in the film. His talent as a writer and director shines through, as he creates a world that feels both realistic and magical. The film is beautifully shot, with stunning scenery and a memorable soundtrack that perfectly captures the different moods of each season.
In conclusion, The Four Seasons is an excellent movie that deserves to be seen by anyone who loves a good story about love, friendship, and the ups and downs of life. It is a timeless classic that will always be relevant, as it speaks to the universal themes of human connection and the power of enduring relationships.