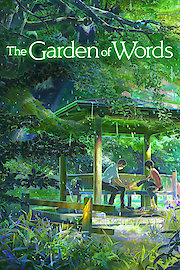 Watch The Garden of Words
TV-14
2013
45 min
The Garden of Words is a 2013 Japanese animated romance film, directed by Makoto Shinkai and produced by CoMix Wave Films. The film tells the story of a 15-year-old boy named Takao Akizuki who aspires to become a shoemaker, but instead skips school regularly to design and make shoes himself in a beautiful garden in Tokyo. One rainy morning, Takao meets a woman named Yukari Yukino, who is older than him and is also skipping work to drink and eat chocolates in the garden. Takao and Yukari start a friendship, and the two begin to meet in the garden regularly during rainy mornings, sharing their secrets and dreams with each other.
As their relationship deepens and they spend more time together, Takao starts to fall in love with Yukari, but due to their age gap and the societal norms of dating, they know their relationship can never be free of judgment. Through their interactions, they learn to deal with their own personal struggles and find solace in each other's company.
The film uses realistic and detailed animation to portray the youth and beauty of the garden and its surroundings, as well as the emotions and thoughts that Takao and Yukari are experiencing. The environment, music, and sound effects all provide a peaceful and soothing atmosphere, which is contrasted by the duo's complex and raw emotions.
The characters' intricate emotions are portrayed throughout the film, as Yukari's professional and personal struggles start to unravel, and Takao's passion for shoe-making collides with his growing adoration for Yukari. The film portrays a cautionary tale that love doesn't always work out in the way we'd like it to, but even still, it is still worth pursuing it.
Overall, The Garden of Words is an emotional and beautiful movie, exploring subjects such as adulthood, love, and social norms, with a poignant and bittersweet ending that will leave the audience contemplating their own lives for sometime. The beautiful animation and melancholic music serve to enhance the viewers' experience and serve as a fitting backdrop to the story that is being told.
The Garden of Words is a 2013 animated movie with a runtime of 45 minutes. It has received mostly positive reviews from critics and viewers, who have given it an IMDb score of 7.4.