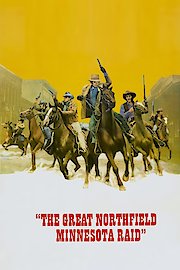 Watch The Great Northfield Minnesota Raid
"The West the way it really was!"
PG
1972
1 hr 31 min
The Great Northfield Minnesota Raid is a western movie. This is the story of two gangs who are pardoned against the will of the people. Two gangs helped to rescue the residents of a Missouri county. For this service they were granted pardons and released from jail. The residents are unhappy. The railroad builders are more unhappy because these gangs stopped their men from building their railroad through the middle of the county where the fight took place. Now one gang decides to rob the bank in Northfield, Minnesota which is the largest bank west of the Mississippi. Some days are bad from the start and planning this bank job is one of them.