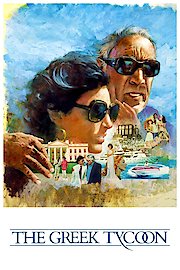 Watch The Greek Tycoon
"She was the most famous woman in the world. He was a peasant, a pirate, a shark. What he couldn't buy with money he stole with charm."
R
1978
1 hr 47 min
This dramatic film is based on the relationship between Jackie Kennnedy Onassis and Greek shipping magnate, Aristotle Onassis. Theo Tomasis met Liz Cassidy when she and her husband, a Massachusetts United States senator, vacationed on Tomasis' island estate. Even though Tomasis had a wife of his own, he was very attracted to Liz. In a few short years, Senator James Cassidy was elected President of the United States. A few years later, President Cassidy died suddenly. Liz fled from the United States to Greece and Tomasis' island. She remembered his kindness to her. They began their courtship upon his yacht.