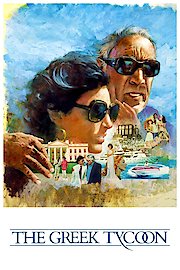 Watch The Greek Tycoon
"She was the most famous woman in the world. He was a peasant, a pirate, a shark. What he couldn't buy with money he stole with charm."
R
1978
1 hr 47 min
The Greek Tycoon is a 1978 movie that follows the story of a wealthy Greek shipping magnate, Theo Tomasis (played by Anthony Quinn), and his romance with a glamorous American socialite, Liz Cassidy (played by Jacqueline Bisset). The movie is loosely based on the real-life romance and marriage of Aristotle Onassis and Jacqueline Kennedy. Theo is a powerful and successful businessman who has made his fortune in the shipping industry. He is also a womanizer and enjoys the finer things in life. Liz, on the other hand, is a beautiful and sophisticated woman from a wealthy New England family. She is married to a charismatic and ambitious politician, James Cassidy (played by James Franciscus), but their marriage is on the rocks. The movie begins with Theo and Liz meeting at a party in Greece. Their attraction to each other is immediate and intense. Theo is determined to win Liz over, and he begins to pursue her relentlessly. Despite her reservations and loyalty to her husband, Liz is drawn to Theo's charisma and passion. As their relationship deepens, Theo faces increasing pressure from his family and business associates to end the unconventional romance. They believe that Liz's reputation as a divorced woman and her close ties to the Kennedy family will bring scandal and disgrace to the Tomasis dynasty. Theo decides to take a bold step and proposes to Liz, hoping that their marriage will provide a shield of respectability and protect their love from outside interference. Liz hesitates, torn between her feelings for Theo and her loyalty to her husband and family. Meanwhile, James becomes aware of Liz's affair and is furious. He launches a public attack on Theo, accusing him of using Liz as a pawn in his business and political games. The confrontation escalates, and Liz is caught in the middle of a bitter feud between two powerful men. The tension reaches a climax when James dies in a tragic accident. Theo is devastated by the loss but is determined to continue his relationship with Liz. However, their happiness is short-lived when they face the harsh reality of their profound cultural differences, and the unrelenting scrutiny of the media and society. The movie is a lavish and melodramatic tale of love, power, and tragedy. It features stunning locations in Greece, France, and the United States, and the impressive performances of the leading actors. Anthony Quinn delivers a passionate and charismatic portrayal of Theo, embodying the charm and arrogance of a self-made millionaire. Jacqueline Bisset is equally compelling as Liz, conveying the beauty and vulnerability of a woman torn between two worlds. Raf Vallone delivers a strong supporting performance as Theo's loyal friend, Spyros. Overall, The Greek Tycoon is a captivating and engaging movie, albeit flawed in its historical accuracy and character development. It offers a glamorous and nostalgic glimpse into a bygone era of jet-set lifestyles, international intrigues, and scandalous romances.