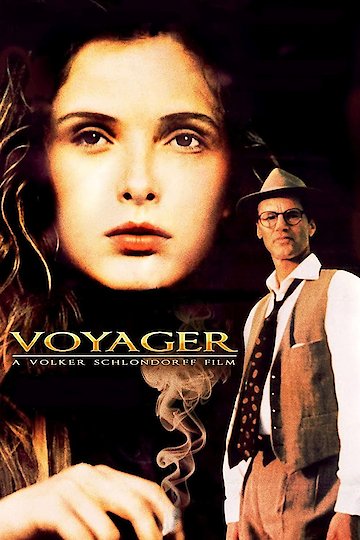 Watch Voyager
"Destiny is the most powerful coincidence of all."
PG-13
1991
1 hr 57 min
Voyager is a film that explores the intricacies of human relationships and the boundaries that exist between them. Directed by French filmmaker Volker Schlöndorff and released in 1991, the movie stars Sam Shepard as Walter Faber, a successful engineer who has spent his life avoiding emotional connections with others, living a solitary existence focused solely on his work.
However, when Faber's flight to South America is forced to make an emergency landing in the middle of the Sahara Desert, he meets a beautiful young woman named Sabeth (Julie Delpy), who is also bound for the same destination. It quickly becomes clear that Sabeth is quite different from the women Faber has known before, and he finds himself drawn to her in a way that he can't quite understand.
As their journey continues, Faber and Sabeth encounter a number of obstacles and challenges, from the treacherous landscape of the desert to the cultural differences they face in South America. Along the way, they are joined by Hanna (Barbara Sukowa), a woman who has been searching for her long-lost husband and who becomes a sort of surrogate mother to Sabeth.
Through their experiences together, Faber, Sabeth, and Hanna begin to develop a deep understanding of one another, challenging the emotional barriers that they have built up over the course of their lives. Faber in particular is forced to confront his own feelings of loneliness and isolation, as he realizes that he has been hiding behind his work for far too long.
The film is shot in a somewhat dreamlike fashion, with a somewhat surreal quality to many of the scenes. The stunning landscapes of the Sahara and South America are shot with an incredible attention to detail, and the subtle performances of the three leads create a sense of intimacy and vulnerability that draws the viewer in.
Overall, Voyager is a captivating exploration of the human spirit and the connections that bind us all together, no matter how different we may seem on the surface. Through its expertly crafted storytelling, richly developed characters, and breathtaking cinematography, the film invites viewers to embark on a journey of their own, one that is both challenging and deeply rewarding.
Voyager is a 1991 romance movie with a runtime of 1 hour and 57 minutes. It has received mostly positive reviews from critics and viewers, who have given it an IMDb score of 6.7.