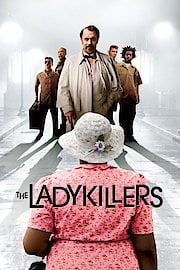 Watch The Ladykillers
"The greatest criminal minds of all time have finally met their match."
R
2004
1 hr 44 min
56
The Ladykillers is a black comedy set in Mississippi in a loosely-defined 1990's period. The events of the story unfold in the third-person omniscient perspective viewed through a Judeo-Christian lens. The protagonist, the semi-decrepit Mrs. Marva Munson is an old-fashioned, strictly moral, and rather curmudgeonly--yet lovable--woman of color. An artifact of an age past, she stands in stark contrast to the modern world around her. In her twilight years she seems only to have her religious faith, a dwindling group of friends, and a painting of her deceased husband as motivating factors. The calm and quiet of her day to day in her large and lovely house is disrupted when, to turn a phrase; the devil came a-knocking. A charming yet prideful Professor by the name of Goldthwaite Higginson Dor introduces himself and asks after a room that Ms. Munson has available to rent out. The Professor makes it a point to ask whether it would be acceptable to Ms. Munson that his band of musical performers be allowed to practice in the basement. It is clear to the viewer that this handsome and sly devil has sinister ulterior motives in wishing to rent the room, but Ms. Munson agrees to let the room and allow musical practice. The possibility of supernatural forces at work is revealed through the painting of her head husband who, through facial expressions, voices his displeasure at the goings on. The members of the Professor's musical ensemble are introduced: Gawain-a stereotypical hot-headed young man of color working in a casino; Lump-a thick yet gentle giant; Garth Pancake-an effects technician; and the mysterious Vietnamese man known only as The General. In a meeting of the musicians in the cellar, it is revealed that the group's musical endeavor is only a cover for a criminal plan. The Professor, linchpin of the group and de facto leader explicitly lays out the plan and each individual's role in it. A riverboat-casino keeps its counting rooms nearby--and the goal is laid bare: to tunnel from the basement of Ms. Munson's house to the counting room, to steal the money, to repair the masonry wall of the counting room, and demolish the tunnel leaving no trace. Ms. Munson becomes aware of the group's true purpose and confronts them about it. Though the theft is ultimately successful each of the characters begins to die as a result of their own personal vices. Ms. Munson, unharmed and left with the money, donates it to a school.