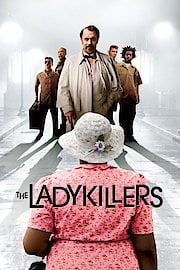 Watch The Ladykillers
"The greatest criminal minds of all time have finally met their match."
R
2004
1 hr 44 min
56
In the 2004 movie The Ladykillers, directed by Joel and Ethan Coen, we are introduced to a colorful cast of characters who band together to rob a riverboat casino. The film stars Tom Hanks as Professor G. H. Dorr, a suave and charming criminal mastermind who assembles a team of unlikely accomplices, including Marlon Wayans as Gawain, a foul-mouthed and jittery criminal with a heart of gold, and Irma P. Hall as Mrs. Munson, a no-nonsense and deeply religious widow who unwittingly becomes embroiled in their scheme.
The plot centers around the planning and execution of the heist, which involves tunneling through the basement of Mrs. Munson's modest home to access the casino's cash vault. However, Dorr and his crew encounter a number of obstacles along the way, including the nosy suspicions of Mrs. Munson, who becomes increasingly suspicious of their activities, and the unexpected presence of a deranged, trigger-happy exterminator (played by J.K. Simmons) who poses a threat to their carefully laid plans.
As the film unfolds, we are treated to a masterclass in dark comedy, with the Coen Brothers delivering their signature blend of dry wit, absurdity, and unexpected twists and turns. Hanks, in particular, is a standout in his role as Professor Dorr, exuding a magnetic charisma and a sly sense of humor that make him a delight to watch onscreen. Wayans is equally impressive in his portrayal of Gawain, bringing a touch of pathos to a character that could have easily been one-dimensional.
But perhaps the real star of the film is Irma P. Hall, whose performance as Mrs. Munson is nothing short of outstanding. Hall imbues the character with a warmth, humor, and fierce determination that make her an instantly likable and sympathetic figure, even as she unwittingly becomes entangled in the criminal activities of Dorr and his crew. Her interactions with the other characters are a highlight of the film, and her scenes with Hanks in particular crackle with a palpable chemistry and a sense of playful one-upmanship.
Of course, no Coen Brothers film would be complete without a healthy dose of quirkiness, and The Ladykillers certainly delivers in that regard. From the eclectic soundtrack featuring traditional gospel tunes to the elaborate Rube Goldberg-style contraptions used by the crew to navigate their way through the tunnel, the film is full of amusing and offbeat touches that add to its overall charm.
Overall, The Ladykillers is a delightfully eccentric and thoroughly entertaining film that showcases the Coen Brothers at their quirky, irreverent best. With a talented cast, a witty script, and a healthy dose of unexpected humor, it's a movie that's sure to delight fans of the Coens and newcomers alike.
The Ladykillers is a 2004 comedy with a runtime of 1 hour and 44 minutes. It has received moderate reviews from critics and viewers, who have given it an IMDb score of 6.2 and a MetaScore of 56.