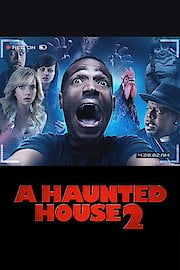 Watch A Haunted House 2
"It'll scare the #2 out of you."
R
2014
1 hr 27 min
17
A Haunted House 2, released in 2014, is a comedy horror film directed by Michael Tiddes and starring Marlon Wayans as Malcolm Johnson, Jaime Pressly as Megan, and Cedric the Entertainer as Father Williams. The movie is a sequel to the 2013 film A Haunted House, which also starred Wayans. The plot of A Haunted House 2 centers around Malcolm, a man who has recently moved into a new house with his girlfriend Megan and her two children. Unbeknownst to them, the house is haunted by a demonic presence that soon makes their lives a living nightmare. As the supernatural occurrences in the house escalate, Malcolm turns to a variety of experts in an attempt to rid his home of the evil spirit. Along the way, he encounters characters such as a psychic, a priest, and a team of ghost hunters, all of whom provide comic relief and contribute to the over-the-top tone of the film. Throughout the movie, Wayans delivers his signature brand of raunchy humor, often relying on physical comedy and exaggerated facial expressions to generate laughs. His co-stars Pressly and Cedric also provide comedic moments, with Pressly in particular delivering a standout performance as Malcolm's wary and increasingly exasperated girlfriend. While the film's scares are mostly played for laughs, there are some genuinely creepy moments that may give viewers a fright. The special effects are also impressive, with the demonic entity portrayed through a combination of practical and computer-generated effects. Ultimately, A Haunted House 2 offers an entertaining mix of horror and comedy that is sure to delight fans of both genres. While not a groundbreaking film by any means, it is a fun and enjoyable watch that offers plenty of laughs and scares in equal measure. In conclusion, if you're in the mood for a horror-comedy with plenty of laughs and scares, be sure to Watch A Haunted House 2 Online.