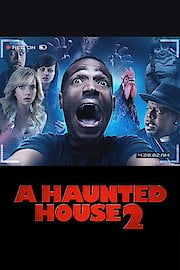 Watch A Haunted House 2
"It'll scare the #2 out of you."
R
2014
1 hr 27 min
17
The second movie in the series, the movie begins as Malcolm has lost his girlfriend in a car accident. He soon meets a new girl named Megan, and they develop a relationship. He falls in love with her, but something doesn't seem right about the situation. Megan has two children, and the family moves into a new home soon after meeting. Paranormal events soon begin to plague the family; they seem to be linked to the children. As if things weren't bad enough with the children seeing images, Malcolm's girlfriend who died in the car accident is back, and she is living across the road in a home. One man has to deal with all of the ghostly happenings of his own home as well as those of his ex-girlfriend who is now possessed by a demonic spirit. The living meet the dead in a way that Malcolm might not think is possible.