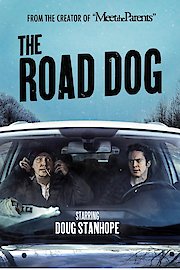 Watch The Road Dog
"It's never too late for a second chance."
2023
1 hr 45 min
Jimmy Quinn is a veteran of stand-up comedy's glory days; he is also an alcoholic. His life changes when his son David, who he abandoned as a child, shows up at his door, professing his desire to be a stand-up comedian.
The Road Dog is a 2023 drama with a runtime of 1 hour and 45 minutes. It has received poor reviews from critics and viewers, who have given it an IMDb score of 9.1.