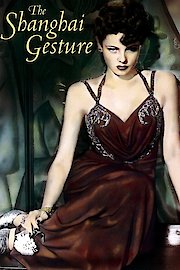 Watch The Shanghai Gesture
"Mystery-lure of the Far East!"
NR
2010
1 hr 40 min
The Shanghai Gesture is a classic film noir from 1941 that is set in the colourful and seedy underworld of Shanghai. The movie is directed by the legendary Josef von Sternberg and stars the gorgeous Gene Tierney, the brilliant Walter Huston, and the dashing Victor Mature. The story revolves around a young American woman named Poppy Smith (Tierney) who comes to Shanghai in search of her past. Poppy is the daughter of an opium-addicted woman named Dixie (Phyllis Brooks) who died in Shanghai years earlier. Poppy's father, Sir Guy Charteris (Huston), is a wealthy British merchant who has made his fortune in China's opium trade. Sir Guy is a shrewd and ruthless businessman who is feared and respected in the international community of Shanghai. Poppy becomes caught up in the decadent and dangerous world of Shanghai's gambling dens and opium parlors. She meets a handsome and mysterious gambler named Dr. Omar (Mature) who is rumored to be a prince from a remote province of China. Dr. Omar is surrounded by a group of shady characters who seem to be plotting against him. Poppy is drawn to Dr. Omar's mysterious allure and begins to fall in love with him. As Poppy delves deeper into the shady world of Shanghai, she uncovers dark secrets about her past and her family's involvement in the opium trade. She also discovers a hidden agenda behind Dr. Omar's interest in her. The plot thickens as Poppy becomes embroiled in a dangerous game of cat and mouse between Dr. Omar and Sir Guy. The Shanghai Gesture is a masterpiece of visual storytelling that captures the exotic and surreal atmosphere of Shanghai's underworld. The film is full of stunning and unforgettable images, such as the mesmerizing dance of a Chinese woman with a caged bird, the haunting sound of a Chinese opera singer, and the eerie shots of Shanghai's back alleys and red-light districts. The acting in The Shanghai Gesture is superb. Gene Tierney gives a mesmerizing performance as the conflicted and sensual Poppy. Walter Huston is excellent as the conniving and ruthless Sir Guy. Victor Mature is perfectly cast as the enigmatic and charismatic Dr. Omar. The supporting cast is also outstanding, with memorable performances by Ona Munson, Eric Blore, and Phyllis Brooks. The music in The Shanghai Gesture is also noteworthy. The film features a rich and exotic score by Richard Hageman that blends Chinese opera and Western classical music. The music enhances the film's noirish atmosphere and adds to its otherworldly quality. The Shanghai Gesture is a classic film noir that continues to captivate audiences nearly 80 years after its release. It is a movie that defies easy categorization, blending elements of mystery, romance, melodrama, and visual spectacle. Its stunning visuals, memorable characters, and haunting music make it a classic of Hollywood's Golden Age.