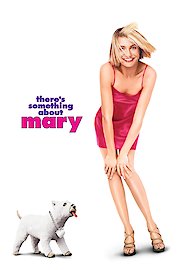 Watch There's Something About Mary
"Love is in the hair."
R
1998
1 hr 59 min
69
There's Something About Mary is a romantic comedy film that was released in 1998. The film was directed by the Farrelly brothers and stars Cameron Diaz, Matt Dillon, and Ben Stiller. The movie revolves around the character of Mary, played by Cameron Diaz, who is the object of desire for multiple men in the film. Ted, played by Ben Stiller, is the protagonist of the film who falls in love with Mary when he is in high school. However, an unfortunate incident involving his zipper, which leaves him with a painful injury, means that he is unable to attend his prom and ask Mary to be his date. Years later, Ted is still haunted by Mary and decides to hire a private detective, played by Matt Dillon, to track her down.
The movie follows the lives of Ted, Mary, and the private detective as they navigate through their relationships with each other. Ted's obsession with Mary leads him to deceive her by pretending to be a well-off architect, while the private detective, Pat Healy, attempts to win Mary's affection by lying about his true identity.
The themes of the film revolve around the ideas of love, obsession, and honesty. The film highlights that love is not only about physical attraction and that a person's character can be more important than their looks or social status. The movie also touches on the harmful effects of obsession and how it can drive a person to do irrational and dangerous things.
The Farrelly brothers have a distinct style of comedy, which is evident in this film. The movie is filled with crude humor, gags, and slapstick comedy. Despite this, the movie also offers heartfelt moments that touch on deeper emotions.
Cameron Diaz delivers an outstanding performance as Mary. She portrays Mary as an independent and strong-willed woman who is not afraid to speak her mind. Diaz's chemistry with both Ben Stiller and Matt Dillon is palpable, and their interactions provide some of the movie's funniest moments.
Ben Stiller also shines in his role as Ted. He perfectly captures the awkwardness and insecurity that comes with being in love. Stiller's performance is particularly noteworthy in the scenes where he attempts to win over Mary's affections by pretending to be someone he's not.
Matt Dillon is also enjoyable to watch as the sleazy private detective Pat Healy. Dillon's character brings an element of unpredictability to the film, and his interactions with Mary and Ted create some entertaining moments.
Overall, There's Something About Mary is a classic romantic comedy that has held up well over the years. The film offers plenty of laughs while also delivering a heartfelt message about the importance of honesty in relationships. The performances by the lead actors are top-notch, and the Farrelly brothers' unique style of comedy makes this film a must-watch for fans of the genre.
There's Something About Mary is a 1998 romance movie with a runtime of 1 hour and 59 minutes. It has received mostly positive reviews from critics and viewers, who have given it an IMDb score of 7.1 and a MetaScore of 69.