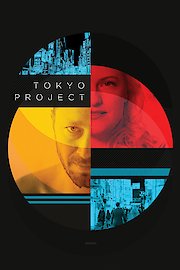 Watch Tokyo Project
TV-MA
2017
32 min
Tokyo Project is a 2017 romantic drama directed by Richard Shepard, starring Elisabeth Moss, Ebon Moss-Bachrach, and Shusaku Kakizawa. Shot entirely on location in Tokyo, Japan, the film follows the story of a man and a woman who meet in Tokyo and discover an unexpected connection. The film opens with Sebastian (Moss-Bachrach), a photographer from New York, arriving in Tokyo on a business trip. He is there to take photos for a magazine and he soon runs into a woman named Claire (Moss), who he met once before in New York. Claire is in Tokyo for her own reasons and the two decide to spend the day together, visiting various Tokyo landmarks and reconnecting over their shared love of Japanese culture.
As the day progresses, the two begin to develop a deeper connection, and it becomes clear that they are both struggling with personal issues that they are keeping concealed from one another. Eventually, Sebastian reveals that he is in Tokyo searching for his estranged wife, who he believes may be living in the city. Claire, meanwhile, is in Tokyo to escape the grief and trauma of her recent past.
The two continue to spend time together, exploring Tokyo and getting to know each other on a more intimate level. However, as their time together draws to a close, they must confront the difficult realities of their situations and decide if they are ready to face the challenges of their lives back in New York.
One of the most compelling aspects of Tokyo Project is its stunning visuals. Director Richard Shepard does an excellent job of capturing the vibrancy and energy of Tokyo, showcasing the city's bright lights, dense crowds, and iconic landmarks. The use of handheld cameras and natural lighting also give the film a sense of spontaneity and intimacy, which serves to further emphasize the connection between the two main characters.
The chemistry between Moss and Moss-Bachrach is also a highlight of the film. Both actors deliver convincing performances as two troubled individuals who find solace in one another's company. Moss in particular gives a standout performance, managing to convey a wide range of emotions with just her facial expressions and body language.
Despite its relatively short runtime of just over 30 minutes, Tokyo Project manages to pack in a lot of depth and complexity. The film explores themes of loss, grief, isolation, and the search for human connection in a way that feels both authentic and moving. While it may not be the most action-packed or plot-heavy film, Tokyo Project is a powerful meditation on the human experience, and a beautiful tribute to the city of Tokyo itself.
Overall, Tokyo Project is a visually stunning and emotionally resonant film that will appeal to fans of romantic dramas and character-driven stories. It may not be for everyone, but those who are willing to invest their time and attention into the film will likely find it to be a rewarding and memorable experience.