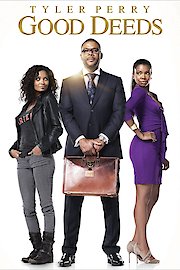 Watch Tyler Perry's Good Deeds
"Wesley Deeds is About to Discover the Person He Was Meant to Be."
PG-13
2012
1 hr 50 min
43
Tyler Perry's Good Deeds (aka Good Deeds) is a 2012 romantic drama film that was written and directed by Tyler Perry. In a play on the film's title, Perry plays Wesley Deeds, a business man who lives a comfortable and well-ordered life. The owner of The Deeds Corporation, Wesley is engaged to the beautiful Natalie (Gabrielle Union), who is slightly discontented with Wesley's indifference regarding their wedding as well as everyday life. Through an act of miscommunication, Wesley meets Lindsey (Thandie Newton), a single mother and cleaning woman for The Deeds Corporation. Lindsey is down on her luck and scrambling to get enough money together to pay rent. Through an act of kindness Wesley helps Lindsey get on her feet and Lindsey shows him apart of himself that he hardly knew existed, sparking a friendship that will help to ignite further good deeds for everyone in their lives. This newfound relationship may, however, have repercussions regarding Natalie's trust in Wesley.