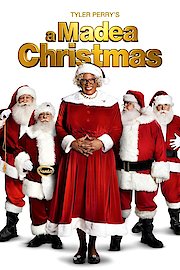 Watch A Madea Christmas
"This Little Fool Thinks She's Getting A Damn Pony"
PG-13
2013
1 hr 45 min
28
She's at it again! That loose-tongued lady of straight talk is back for the holidays. In A Madea Christmas, Madea is talked into traveling with her niece Eileen to visit Eileen's daughter Lacey in a small country farming community for the holidays. The two ladies' surprise visit to see Lacey comes with more shock for Eileen than anything! Lacey is in a somewhat unorthodox relationship and is afraid to tell her mother. This, on top of added funding problems for the annual Christmas Jubilee at Lacey's school and turmoil amongst various members of the community and it makes for one holiday mess. Madea somehow, unafraid to rock the boat always tells it like it is and gives everyone a sense of comfort.