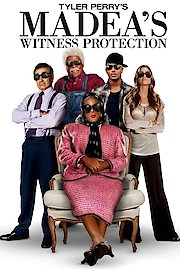 Watch Madea's Witness Protection
"Believe it or not, they know too much."
PG-13
2012
1 hr 54 min
42
Madea's Witness Protection was written, directed and produced by Tyler Perry himself and is considered the first film to consist of just comedy. Like in all of the other Madea movies, Tyler Perry plays Mabel (Madea) Simmons but he also plays the roles of Brian Simmons and Joe Simmons. This all-star cast includes: Denise Richards as Kate Needleman, Eugene Levy as George Needleman, Romeo Miller as Jake Nelson, Tom Arnold as Walter, John Amos as Pastor Nelson, Marla Gibbs as Hattie and special cameo appearances by Charlie Sheen. The story starts out with George Needleman, the meek and mild CFO of a Wall Street Investment Bank known as Lockwise Industries. Life has been rough on him lately; his young son wants to spend more time with him, his teenage daughter is spoiled rotten and his new wife is having a hard time taking care of his senile mother. When George walks into work to find his co-workers destroying all the documents his life goes from bad to worse. That is when his boss informs his that the company was really just a Ponzi scheme that was run by the Malone mob family and he is being set up as the ring leader of it all. Now he is not only facing criminal charges that can send him away for a long time but he is also receiving death threats from the mob. It is decided that the best thing for George and his family would be if they were put in the witness protection program. Federal prosecutor Brian couldn't think of any safer place than at his aunt Madeas's house in Georgia. Relocating down to Georgia and meeting Madea was not a smooth transition either. George's senile mother mistakes Madea for domestic help and threatens to get her fired; while she believes Madea's husband was a man she had an affair with years earlier and thinks he is George's father. In the midst of all that is going on, the Needleman family joins Madea at church one Sunday where they meet the pastor's son, Jake who had secretly invested all of the church money into Lockwise Industries and lost it. After listening to a sermon, George realizes how he can find the company money that has been stashed away and give it back to the charities it was stolen from. Now George, Jake and Madea must head back to New York City and convince a bank manager into transferring the laundered money into real accounts. The other problem is they have to avoid the Malone mob family which is searching for George to stop him permanently.