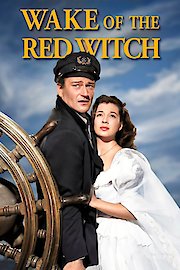 Watch Wake of the Red Witch
"Romance! Adventure!...as wild as the RAGING SEAS!"
Approved
1949
1 hr 46 min
Wake of the Red Witch is a sea-faring action-adventure film. It is notable for being one of the few times John Wayne was in a high seas adventure. The story is based on the novel of the same name by Garland Roark. John Wayne plays Captain Ralls, who fights against a Dutch shipping magnate aboard the red Witch for the hand of Gail Russell and a fortune in gold. While the two men hate each other and are major rivals, they also have a grudging respect for each other as worthy adversaries. They also have a complex symbiotic relationship, where one needs the other even as they vie to come out ahead of each other.