Championship Week
This series takes a look at college basketball games that are shown during championship week. This is the week that will determine what team has the best record in college basketball. Viewers will get to see past winners and highlights from the games.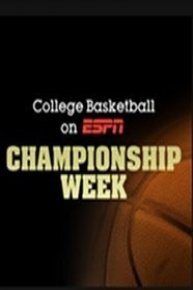 Championship Week Full Episode Guide
Episode

4

-

Duke vs Georgia Tech

Looking to clinch their second straight and 18th overall conference title, fourth-ranked Duke faces off against Georgia Tech in the ACC Championship. With a win, the Blue Devils will surpass North Carolina for most conference titles in the ACC. The Yellow Jackets hope to become the lowest-seeded team to win the tournament while solidifying their shaky NCAA Tournament prospects.

Episode

3

-

Georgetown vs. West Virginia

West Virginia basketball star Da'Sean Butler, a senior and first-team All-Big East selection, scored in the lane with 4.2 seconds left in the Mountaineers 60-58 victory over Georgetown. This game winning basket gave West Virginia its first Big East championship. The Mountaineers also secured their 23rd NCAA tournament appearance with the win. Georgetown was denied in its bid for an eighth Big East tournament championship.

Episode

2

-

Kansas State vs. Kansas

Top ranked Kansas and ninth ranked Kansas State, the two best teams in the Big 12, arguably the two teams with the most passionate basketball fans in the Big 12, met for the Big 12 tournament title at the Sprint Center. It was a great contest but Kansas would eventually win its seventh Big 12 tournament title holding off Kansas State 72-64. Kansas State is 2-33 against Kansas since the Big 12 started play in the 1996-97 season.

Episode

1

-

Uconn vs Syracuse 6 OT

For nearly four hours Syracuse and Connecticut had waged an up and down, back and forth, six overtime marathon in the 2009 Big East tournament. Syracuse finally outlasted the Huskies 127-117 in the second longest game in Division I history.