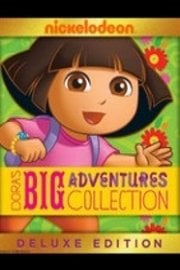 Watch Dora's Big Adventures Collection
Dora's Big Adventures Collection is a popular animated show that airs on Nickelodeon. The show follows the adventures of a young girl named Dora, who, along with her friends, sets out on various missions and quests to explore the world around her. The show has been a favorite amongst children for years, thanks to its engaging characters and entertaining storylines. The cast of characters includes Dora's best friend Boots, a talking monkey, her trusty backpack, and her map, who helps her on her journey through various environments such as forests, jungles, and beaches.
Throughout the show, Dora and her friends encounter various obstacles and challenges, but they always manage to overcome them through cooperation and problem-solving skills. The show teaches important life skills such as teamwork, communication, and critical thinking, all while entertaining children with its colorful animations and catchy songs.
One of the unique features of Dora's Big Adventures Collection is its interactive format. The show frequently breaks the fourth wall and directly addresses the audience, asking them to help Dora to solve problems by shouting out the correct answer or performing actions along with the characters. This format has been a hit among young viewers, who love to engage with the characters and feel like they are part of the adventure.
Another standout feature of the show is its diverse cast of characters. Dora herself is a Latina girl, and her friends come from a wide range of ethnic backgrounds. The show has been praised for its representation of people of color and for promoting multiculturalism to young viewers.
The show's themes of exploration and discovery have also inspired a range of merchandise and spin-off products. From toys and games to clothing and accessories, children can now bring the world of Dora's Big Adventures Collection into their own homes and continue to learn and explore long after the show has ended.
In addition to its entertainment value, Dora's Big Adventures Collection has also been recognized for its educational benefits. The show is designed to enhance children's language skills and promote early learning, with a focus on teaching basic Spanish phrases and promoting problem-solving and critical thinking.
Overall, Dora's Big Adventures Collection is a beloved children's show that has captivated audiences around the world with its colorful animation, engaging characters, and fun storylines. It is a testament to the power of children's programming to not only entertain but to educate and inspire children to explore the world around them.
Dora's Big Adventures Collection is a series that is currently running and has 1 seasons (6 episodes). The series first aired on November 19, 2006.