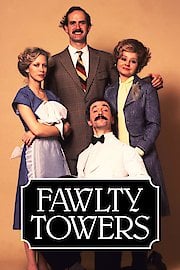 Watch Fawlty Towers
TV-PG
1975
2 Seasons
Fawlty Towers is an iconic British sitcom that first aired on BBC2 in 1975 and ran for just two seasons, ending in 1979. The show was created and written by John Cleese and Connie Booth, who also starred in the series alongside Prunella Scales, Andrew Sachs, Brian Hall, Ballard Berkeley, Gilly Flower, and Renee Roberts.
The show is set at the eponymous Fawlty Towers, a fictional hotel located in the seaside town of Torquay, South-West England. The hotel is run by the cantankerous and rude Basil Fawlty (played by John Cleese), who is constantly at odds with his guests, his wife Sybil (played by Prunella Scales), and his put-upon Spanish waiter Manuel (played by Andrew Sachs).
Each episode sees Basil trying to juggle the demands of his guests with his own personal neuroses and the interference of his wife and staff. His efforts are often hampered by his own incompetence and short temper, resulting in chaotic and farcical situations that are both hilarious and cringe-worthy to watch.
The show's humor is largely based on Cleese's gift for physical comedy, as well as his incredible ability to deliver fast-paced and perfectly timed dialogue. He is aided in this by a talented ensemble cast, who each bring their own unique energy to the show. Scales is particularly brilliant as Basil's long-suffering and endlessly patient wife Sybil, while Sachs steals the show with his portrayal of the hapless but lovable Manuel.
One of the strengths of the show is its endless supply of memorable characters and catchphrases, from the perpetually confused Manuel ("Que?") to the imperious Mrs. Richards ("I've stayed at many hotels, but I've never had to endure such a barrage of filth!"). Even the hotel itself becomes a character in its own right, with its shabby decor and endless supply of faulty electrical appliances playing a key role in many of the show's most iconic moments.
Although it ran for just twelve episodes, Fawlty Towers has a timeless quality that has made it beloved by audiences around the world. Its influence can be seen in countless other sitcoms, from The Office to Arrested Development, and it continues to be celebrated as one of the greatest comedies in British television history.
Overall, Fawlty Towers is a must-watch for anyone who appreciates classic British comedy. Its combination of brilliant writing, flawless performances, and unforgettable characters make it a true masterpiece of the genre, and it remains as funny and relevant today as it was when it first aired over 40 years ago.
Fawlty Towers is a series that is currently running and has 2 seasons (12 episodes). The series first aired on September 19, 1975.