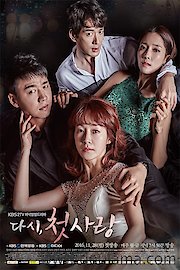 Watch First Love
First Love, also known as Crazy Little Thing Called Love, is a Thai romantic comedy television series which first aired on Channel 3 in 2016. The show is based on the 2010 Thai film of the same name, which was a massive hit and was well received by audiences and critics alike.
The story of First Love revolves around a high school girl named Nam, played by Pimchanok Luevisadpaibul, who is desperately in love with the most popular boy in school, Shone, played by Mario Maurer. However, Nam is a shy and awkward girl who is constantly bullied and ridiculed by her classmates for her looks and her humble background. Despite being on the lower rung of the social ladder, Nam dreams of one day winning the heart of Shone and becoming his girlfriend.
The show takes us through the ups and downs of Nam's life as she tries to navigate the complexities of high school and overcome the obstacles in her path. Along the way, she meets a kind and caring boy named P'Shone, played by Naphat Siangsomboon, who has always had a crush on her. However, Nam is blinded by her infatuation with Shone and fails to realize that P'Shone is the one who truly cares for her.
As the show progresses, we see Nam and Shone grow closer, but their relationship is plagued by misunderstandings and insecurities. Meanwhile, P'Shone tries his best to be by Nam's side and support her in every way possible. The show is a delightful mix of heartwarming romances, teenage angst, and coming-of-age storylines.
One of the biggest draws of First Love is the chemistry between the cast members. Pimchanok Luevisadpaibul is brilliant as Nam, and her performance is what drives the show. She perfectly captures the awkwardness and vulnerability of a high school student while also portraying a girl who is full of hope and determination. Mario Maurer is equally impressive as Shone, the handsome and popular boy who seems to have everything except true happiness. His body language and expressions convey a lot, and he brings a sense of nuance to the character.
Naphat Siangsomboon delivers an outstanding performance as P'Shone, the boy who is always there for Nam. He brings a sense of warmth and kindness to the show, and viewers cannot help but root for him. The rest of the cast, including Chantavit Dhanasevi, Pijitra Siriwerapan, and Sua Santisuk Promsiri, also delivers solid performances that add depth and complexity to the show.
Apart from the stellar cast, the show also boasts of exceptional production values. The cinematography is stunning, and the show is a feast for the eyes. The music is also top-notch, with a soundtrack that captures the spirit and emotion of the show perfectly.
However, what truly makes First Love stand out is its heart. The show is not just a typical teenage romantic comedy. Instead, it is a story about self-discovery, perseverance, and following your dreams. The characters are flawed and relatable, and viewers cannot help but empathize with their struggles. The show tackles issues such as bullying, social stigmas, and stereotypes in a nuanced and sensitive manner.
In conclusion, First Love is a charming, funny, and poignant show that is a must-watch for anyone who loves romantic comedies. It is a show that will make you laugh, cry, and fall in love with its characters. The performances are outstanding, the production values superb, and the storyline is heartwarming. It is a show that will leave you feeling warm and fuzzy inside and is guaranteed to put a smile on your face.
First Love is a series that is currently running and has 1 seasons (40 episodes). The series first aired on December 12, 2016.