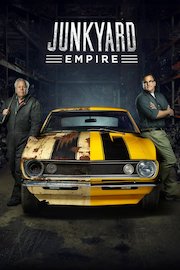 Watch Junk'd
Junk'd is an American reality television show that first premiered on December 9, 2019. Syndicado produces and distributes the show. The show features a team of expert builders and designers who take on a challenge of turning a pile of trash or unused junk into something useful and meaningful. Each episode of the show features a new challenge, and the team is given a limited amount of time to complete the task.
The show is hosted by Josh Temple, who is an expert in home renovation and DIY projects. Josh brings a wealth of knowledge and experience to the show, helping the teams to navigate the challenges they face. The teams consist of three builders and one designer, and they work together to turn the junk into something amazing.
The challenges are quite inventive and cover a wide range of topics. For example, in one episode, the team turns an old school bus into a luxurious mobile home, complete with a kitchen, bathroom, and sleeping area. In another episode, they take on a challenge to create a functional workout center out of a pile of old tires.
Junk'd has a unique focus on sustainability and repurposing. The show highlights the importance of reducing waste and reusing what we already have. The teams are always thinking creatively and trying to find new ways to give the junk a second life. This focus on sustainability is one of the things that sets Junk'd apart from other home renovation shows.
In addition to the main challenge, each episode also features a smaller challenge that the team must complete. For example, they may have to incorporate a certain item into their design or use only a limited number of tools. These challenges add an extra layer of creativity to the show and keep things exciting.
Junk'd is a fast-paced show, and there is never a dull moment. The clock is always ticking, and the teams are under a lot of pressure to complete the task on time. This creates a sense of urgency and adds to the excitement of the show. The builders and designers work together seamlessly, and you can see the camaraderie and teamwork in action.
Another great aspect of Junk'd is the variety of junk that the teams work with. You never know what they will be given to work with from episode to episode. They have turned everything from a rundown boat to an old piano into something amazing.
The final product is always impressive, and it's incredible to see what the teams are able to create with what seems like useless junk. The show is not only entertaining, but it's also inspiring. It encourages viewers to think creatively and consider ways to repurpose things rather than throwing them away.
Overall, Junk'd is an entertaining and inspiring show that highlights the importance of sustainability and creativity. The challenges are inventive and exciting, and the teams work together seamlessly to turn junk into something amazing. Anyone who loves home renovation, DIY projects, or sustainability will enjoy this show.