Los Beltran
A Cuban-American Patriarch and his family deal with life, love and changing values in a Southern California suburb.
1 Season,

43

Episodes

October 17, 1999

/

10

Cast:

Yeni Alvarez, Margarita Coego, Emiliano DÑez, Demetrius Navarro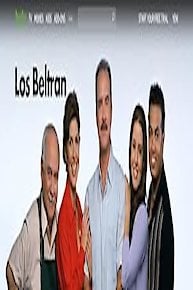 Los Beltran Full Episode Guide
Episode

22

-

Oh My God, Part 2

Manny is at heaven's gate. Will he get in?

Letti and Anita both deal with the possibility of having a baby.

Episode

19

-

Beltran Paradise

The family goes on vacation at their new timeshare property in the middle of a military base.

Episode

18

-

The Sombrero

A family feud ensues when Miguel finds a lucky hat in the bodega and everyone wants a piece of it.

Episode

17

-

Bad View Social Club

Letti lies to join an upscale Cuban women's social club. It's up to Manny to expose Letti and the club's true colors.

Episode

16

-

The Court of the People

Manny goes to People's Court to try to make some easy money, but he's in for a surprise.

Episode

15

-

Little Leagues

When Miguel's little league team under performs, Manny comes to the rescue.

Episode

14

-

Teofilo's Blind Date

Teofilo is set up on a date with his perfect match, until Manny and Letti get involved.

A Cuban baseball player defects and hides in the Beltran household.

The girls enter a Salsa contest, leaving the boys out.

Episode

11

-

Welcome Teofilo

Teofilo gets community service and has to serve it at El Bodegon

Episode

10

-

Guerrilla Azteca

Miguel gets chosen to draw a famous comic strip.

Episode

9

-

Poor Little Conchinito

Manny wants a traditional Cuban dinner, but he loses his nerve when he has to kill the little piglet himself.

Episode

8

-

Educating Manny

Anita and Miguel pretend to get a divorce to teach Manny a lesson about respecting his son-in law.

Episode

7

-

The Full Manny

After a fight with the boys, the girls go to a strip joint, only to be surprised by the performers

Episode

6

-

I Do... or Not

Femandito and Kevin hear wedding bells.

At Manny's insistence, Letti gets a cameo in a movie, to later find out that it is an X rated film.

When a serial robber holds up the bodega, Manny cowardly foils the attempt and becomes a hero.

Manny pretends to be poor in order to land a big catering job.

Episode

2

-

Divine Youth Treasure

Manny is feeling like he's lost his touch, and Letti sets up the unthinkable to prove him wrong.

Miguel & Anita have a big fight and Miguel, regretting his behavior, serenades Anita.
Episode

22

-

The Visit of Victoria

Anita and Miguel's relationship is put to the test when Anita's best friend from childhood makes a surprise visit to the Beltran household.

Episode

20

-

Ashes to Ashes

Manny loses Abuela Petra's ashes and might end up being dead himself if Letti finds out.

Episode

19

-

One, Two, Three, Fore

Manny takes up golf to meet the president of a Cuban business association with deadly results.

Episode

18

-

The Revelation of Fernandito

The Beltran family must come to the rescue when Fernandito and Kevin decide to tell Fernandito's father, a Spanish general, the truth about their relationship.

Episode

17

-

Bring On the Winos

In his on-going effort to become a member of the Fortuna 2000 club, Manny hires a homeless man to impress the president but a case of mistaken identity leaves him in an unexpected position.

Episode

16

-

And What You?

Miguel decides to give up painting when he doesn't win a very prestigious award.

Episode

15

-

Letti's Dream

When Letti's addiction to a televovela leads to a hilarious dream where she and the rest of the cast land in an 18th century novella.

Episode

14

-

Manny's Big Move, Part II

In the second of a two-part Los Beltran, the controversy Manny ignites within the Latino community when he sells out to casino developers threatens to ruin Manny and Gilberto's longtime friendship

Episode

13

-

Manny's Big Move, Part I

Manny and Letti decide to take the money and run when casino developers make an offer to buy out El Bodegon in the first of a two part Los Beltran.

Episode

12

-

Mario, Maria

When Manny's old baseball teammate comes to town, Manny discovers his old buddy has changed in ways he could have never imagine.

Episode

11

-

Our Lady of Lankershim

Hoping to boost the bodega's profits, Manny rigs an apparition that tests his family's patience and his own faith.

Episode

10

-

Manny Checks Out

A misunderstanding over the results of a routine check-up lead Manny down a road of reconciliation and preparation for what he believes the immediate future holds for him.

Episode

9

-

The Dilemma of Anita

Acting like the over-achiever that her father raised her to be, Anita makes some rash decisions when she doesn't find herself at the top of the class in law school.

Episode

8

-

Beltran vs. Beltran

When Leti decides to re-enter the workforce, she is caught off guard by Manny's opinion about her career.

Episode

7

-

Armor Al Fresco

Manny feigns interest in Miguel's art exhibit to meet a critic he wants to impress and is outraged to find a nude painting of Anita for sale.

Episode

6

-

Vote Your Conscience

Manny finds himself supporting a politician for the sole purpose of boosting his business only to find that Mr. Gruber is a wolf in sheep's clothing.

Episode

5

-

A Curse On This House

A curse is placed on the Beltran house, and the family seeks the help of a "professional" santero to cleanse the veil spirit before an important visit by the local newspaper.

Episode

4

-

Sleepless in Burbank

The new living arrangements at the Beltran residence prove to be sexually frustrating for the entire family.

Episode

3

-

Senor Wonderful

A longtime family friend, who is handsome, Cuban, and rich, comes to wine and dine with the Beltran's, upstaging Miguel's efforts to impress Manny with the sale of one of his paintings.

Episode

2

-

Here Comes the Pride

The differences between Mexican and Cuban traditions prevail when the Beltran's prepare for Anita and Miguel's church wedding.