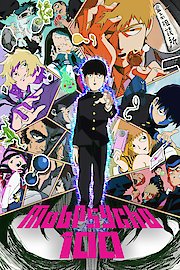 Watch Mob Psycho 100
TV-14
2016
2 Seasons
Mob Psycho 100 is an anime television series that premiered in Japan in 2016 and ran until 2019. The show was created by ONE, the same creator behind the popular anime series One Punch Man. It is based on a manga of the same name. The show follows the story of Shigeo Kageyama, also known as "Mob". Mob is a high school student who possesses powerful psychic abilities. However, he doesn't use these powers for personal gain and instead suppresses them to avoid hurting others. Mob works as an assistant to Reigen Arataka, a self-proclaimed psychic who uses Mob's powers to scam clients.
Throughout the series, Mob faces various supernatural threats such as haunted buildings, possessed dolls, and other humans with psychic abilities. He is often called upon to use his powers to protect others and prevent disasters from occurring. However, Mob struggles with controlling his emotions and fears losing control of his powers, which could cause catastrophic damage.
The show has been praised for its unique animation style, character development, and exploration of themes such as depression, anxiety, and identity. The animation style is distinctly different from other anime, featuring bold lines and vibrant colors to create a surreal and psychedelic atmosphere.
The main character Mob is portrayed as a multi-dimensional person, struggling with issues common to teenagers such as identity, friendship, and romance. His struggles with accepting and controlling his psychic abilities are also relatable to those who have experienced anxiety or depression. As the series progresses, Mob learns to come to terms with his emotions and embrace his powers.
Other characters in the show include Mob's brother Ritsu, who also possesses psychic abilities but struggles with sibling rivalry and identity issues. Reigen Arataka, Mob's mentor, is a flawed character who provides comedic relief but also serves as a moral compass for Mob. The villains in the series are also complex and nuanced characters, often with tragic backstories that humanize them.
Overall, Mob Psycho 100 is a unique and engaging anime series that explores deep themes while providing exciting action and unforgettable characters. Fans of anime and supernatural stories will enjoy this series.
Mob Psycho 100 is a series that is currently running and has 2 seasons (14 episodes). The series first aired on July 12, 2016.