MOJO's The Circuit
The television series MOJO's The Circuit shows the latest technological devices and the amazing things that they can do. The viewer will also get to see how much these devices are worth and why many people feel they are valuable. Some are interesting but silly.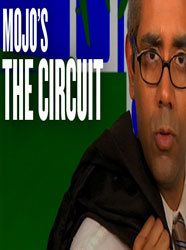 MOJO's The Circuit Full Episode Guide
Deepak tries his best pick-up lines. Pixelcorp's Alex Lindsay heads to WWDC to discuss the future and present of online video.

Deepak goes head to head with Gigaom founder and senior writer Om Malik.

Clone D:Pak visits the Korea Trade Show.

Deepak interviews Physicist Michio Kaku to discuss his new book "Physics of the Impossible."

What happens in Robot Village, stays in Robot Village."

Arthur C. Clarke is causing M.A.H.E.M. from the grave and Deepak learns about solar powered back packs from Voltaic Systems.

Deepak sends Clone D:Pak to cover Comic-Con in New York where he meets Stan Lee and cozies up to countless Slave Leias.

Deepak learns about cloning mice and bio-degradable coffins while Emery Wells interviews an engineer about the Phoenix Mission to Mars.

Personal robots, iPhone Killers and Apple parties fill the headlines while Ben Curtis visits Deepak. Correspondent Emery Wells visits Neutral Ground.

Apple laptops, drugged monkeys and glowing pigs fill this week's episode.
If You Like MOJO's The Circuit, Then Try...