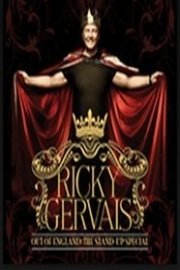 Watch Ricky Gervais: Out of England - The Stand-Up Special
TV-MA
2009
1 Season
Ricky Gervais is a household name when it comes to stand-up comedy, and his 2008 special 'Out of England' showcases his talent brilliantly. Filmed at the WaMu Theater in New York City, the show is an hour-long performance that sees Gervais at his hilarious best, delivering a seamless blend of observational humor, satirical commentary, and hilarious impressions.
The show begins with Gervais poking fun at the Americans, with a discussion of his own experience of visiting McDonald's in the country. He subsequently segues into a broader discussion of American culture, taking aim at everything from the obesity epidemic to the country's obsession with guns. It's classic Gervais, with his trademark mix of wit and provocation.
From there, the show moves on to discuss other topics, including Gervais' own fame, his love for animals, and his views on organized religion. Particularly noteworthy is his take on Christianity, in which he mocks the inconsistencies of the Bible whilst poking fun at the absurdity of some religious beliefs. It's a challenging topic, but Gervais handles it deftly, making it both funny and insightful.
Throughout the show, Gervais' delivery is flawless, and his chemistry with the audience is palpable. Whether he's riffing on the absurdity of Hollywood, discussing his childhood, or making fun of his own weight, he maintains a rapport with the audience that is both engaging and entertaining.
Some of the highlights of the show include Gervais' discussions of his interactions with women, his impressions of various celebrities, and his hilarious anecdotes about his experiences as a comedian. In particular, his story about the time he shared a hotel room with Michael Clarke Duncan is sure to have audiences in stitches.
Ultimately, what sets 'Out of England' apart from other stand-up specials is Gervais' ability to balance humor with insight. He is not afraid to tackle big issues, but he does so with a sense of humor that makes even the most difficult topics bearable. He is also unapologetically himself, unafraid to offend or challenge, but always doing so with a smile on his face.
In conclusion, Ricky Gervais' 'Out of England' is a tour-de-force of comedy that showcases some of the comedian's finest work. With his keen observational skills, razor-sharp wit, and infectious charisma, Gervais makes every minute of the show a joy to watch. It's classic Gervais, and fans of the comedian will not be disappointed.
Ricky Gervais: Out of England - The Stand-Up Special is a series that is currently running and has 1 seasons (1 episodes). The series first aired on March 31, 2009.