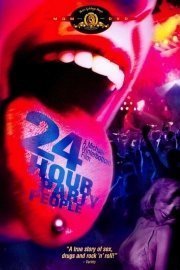 Watch 24 Hour Party People
"Share the Ecstacy!"
R
2002
1 hr 57 min
85
"24 Hour Party People" is a 2002 British comedy-drama film that takes a humorous look at the birth and rise of the infamous Manchester scene of the late 1970s, 80s, and 90s. The film stars Steve Coogan as Tony Wilson, a fiery and somewhat eccentric journalist and music lover who becomes instrumental in creating the city's vibrant music culture.
The film opens in the late 70s, where a burgeoning punk rock scene is taking root in Manchester. Tony is working as a news reporter for Granada TV at the time but becomes enamored with the music scene and decides to start his own record label, Factory Records. His first signing is the post-punk band Joy Division, who quickly become part of the Factory family.
As the film progresses, we see Tony navigate the ups and downs of the music industry, dealing with temperamental artists, chaotic gigs, and drug-fueled parties. He also develops a deep bond with Joy Division's troubled lead singer, Ian Curtis (played by Sean Harris), who tragically takes his own life.
Following Ian's death, Joy Division reform as New Order, and Factory Records continues to release groundbreaking and influential albums. Tony's profile as a music promoter and entrepreneur continues to grow, and the film charts the rise of various other Manchester bands, including The Happy Mondays and The Stone Roses, and the city's hedonistic rave culture of the late 80s.
Throughout the film, there is a sense of self-awareness and humor that takes the edge off some of the darker moments. The film is stylized and energetic, with fourth-wall-breaking moments, surreal touches, and a strong soundtrack featuring many of the bands featured in the film.
Steve Coogan delivers a magnetic performance as Tony Wilson, portraying him as an idiosyncratic figure with a powerful vision and a sense of self-importance that borders on delusion. Coogan captures Tony's passion for music and his unwavering belief in its importance to the city and its people.
Lennie James, who plays Factory Records manager Rob Gretton, is an excellent complement to Coogan's performance, portraying a rough-around-the-edges but fiercely loyal friend who is not afraid to call Tony out when he needs it.
John Thomson, who plays Factory Records co-founder and producer Martin Hannett, is another standout performance, bringing humor and pathos to the role of the brilliant but troubled producer who becomes a vital part of the Manchester music scene.
Overall, "24 Hour Party People" is a must-watch for anyone interested in the history of British music or the Manchester scene in particular. With its blend of humor, drama, and surreal touches, it captures the spirit of a time and place that continues to influence music culture to this day.
24 Hour Party People is a 2002 comedy with a runtime of 1 hour and 57 minutes. It has received mostly positive reviews from critics and viewers, who have given it an IMDb score of 7.3 and a MetaScore of 85.