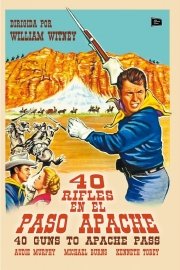 Watch 40 Guns to Apache Pass
"He had to get the guns through the whole Apache nation !"
Approved
1967
1 hr 35 min
A heroic cavalry captain singlehandedly puts down a massive Apache rebellion, led by Cochise, soon after the Civil War. However, he must first stop a mutiny started by a shifty corporal who convinces the men to sell their rifles to the indians.