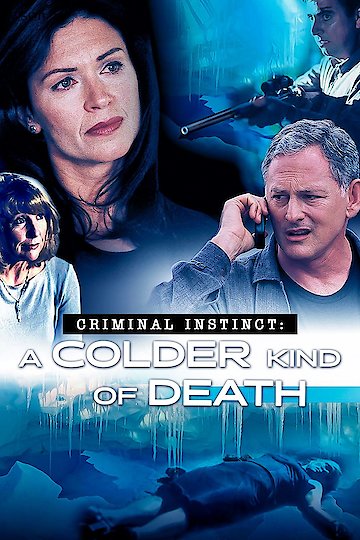 Watch A Colder Kind of Death
NR
2001
1 hr 30 min
A Colder Kind of Death is a thrilling mystery movie released in 2001, directed by Brad Turner and starring Wendy Crewson, Victor Garber, and Robin Dunne. The movie follows the story of a former Detective Chief Inspector whose retirement is interrupted by the sudden death of her husband, also a retired Chief Inspector. She returns to work to investigate his death, which turns out to be suspicious.
The movie's plot is set in Vancouver, Canada, and the story opens with a shocking scene where Chief Inspector Winters' husband, George, dies suddenly. She is called upon to investigate his death, and as she begins to unravel the mystery, she discovers evidence that suggests he was murdered. The investigation soon leads her to the Prime Minister's office, where a cover-up is suspected.
As the movie progresses, it becomes apparent that the case is more complex than it initially seemed, and Detective Winters is left to piece together a puzzle whose pieces just won't fit. As she digs deeper into the case, she discovers many things about her husband she never knew, which leads her to question his motives and ultimately, her marriage.
The movie is expertly directed, and the cast is exceptional. Wendy Crewson delivers a solid performance as the lead actress, and her portrayal of Chief Inspector Winters is convincing and believable. Victor Garber, who plays Chief Inspector Winters' husband, George, is also outstanding. He perfectly embodies the role of a man with a secret past, and his performance will leave you guessing until the very end.
Robin Dunne, who plays Chief Inspector Winters' protégé, is also excellent. He serves as a perfect foil for Crewson's Winters character, and the chemistry between them is brilliant. The other actors in the movie also perform well, although their roles are somewhat subdued compared to that of the three leads.
The movie's pacing is excellent, and the story flows smoothly from one scene to another. The movie also has an air of suspense that keeps the audience engaged throughout the entire movie. The cinematography is also terrific, with the beautiful city of Vancouver serving as the backdrop for most of the movie's scenes.
The movie's soundtrack is also worth mentioning. The music is haunting and intense, perfectly capturing the mood of the movie. The sound effects are also well done, and they add an eerie atmosphere that complements the movie's suspense well.
In conclusion, A Colder Kind of Death is a compelling and well-executed movie that will leave you on the edge of your seat. The movie's excellent directing, exceptional cast, and impressive pacing all contribute to making it a must-watch for anyone who enjoys a good mystery. Whether you're a fan of crime thrillers or just looking for a good movie to watch, A Colder Kind of Death is definitely worth checking out.