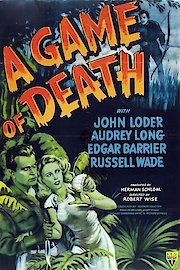 Watch A Game of Death
"A RACE FOR LIFE IN A CHASE AGAINST DEATH!"
Passed
1945
1 hr 12 min
After Don Rainsford crashes his yacht, sharks attack and he's the sole survivor. He washes onto an island and eventually finds a fortress. There, he's welcomed by the owner--Krieger, a German recluse. Krieger's excited to meet Rainsford, who is legendary as a big-game hunter. Over dinner, Rainsford meets the victim of an earlier shipwreck--the beautiful Ellen. Still, the bars over the windows are bewildering. That night, a man is heard screaming in the distance, and soon Ellen is tapping at Rainsford's door: her brother is missing. This film is a remake of The Most Dangerous Game, with a WWII twist.