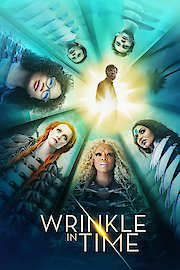 Watch A Wrinkle in Time
"Be a warrior"
PG
2018
1 hr 49 min
53
A Wrinkle in Time is a 2018 science fiction fantasy film directed by Ava DuVernay and based on the 1962 novel of the same name by Madeleine L'Engle. The film stars Storm Reid, Oprah Winfrey, Reese Witherspoon, and Mindy Kaling in leading roles. The movie is a unique take on the classic novel and invites you on a journey through dimensions of space and time.
The movie centers around Meg Murry (Storm Reid), an intelligent but troubled teenager who is struggling to fit in at school and deal with the absence of her father, a renowned physicist who has disappeared without a trace for several years. However, everything changes when Meg, her younger brother Charles Wallace (Deric McCabe), and her friend Calvin O'Keefe (Levi Miller) embark on a wild adventure through space-time to find her father.
The trio is accompanied by three mysterious celestial beings: Mrs. Which (Oprah Winfrey), Mrs. Whatsit (Reese Witherspoon), and Mrs. Who (Mindy Kaling). These three beings possess supernatural abilities and help the children navigate through the otherworldly dimensions. They take the kids through a visually stunning journey through various dimensions and worlds where they encounter extraordinary creatures, surreal landscapes, and unimaginable sights.
The children must travel the universe, dodge evil forces and conquer their own fears to find Meg's father and bring him back home. They will face various challenges along the way, but their hope, faith, and love for each other will keep them going. With each challenge, they learn more about themselves and what it takes to defeat darkness and bring back the light.
Throughout the movie, Meg is tested as she must come to grips with her own self-doubt, insecurities, and self-discovery. She learns to embrace her unique talents and overcome her own doubts and fears to become a powerful force to be reckoned with. Her unwavering determination eventually leads her to her father and their reunion brings closure to her search.
A Wrinkle in Time is a timeless tale of adventure, bravery, and self-discovery mixed with a dash of science fiction and fantasy. The film is visually stunning and the special effects create otherworldly environments that transport you to unknown planets and uncharted galaxies. The performances are superb, and the movie revolves around themes of family, love, courage, and perseverance. It teaches the audience that nothing is impossible if you dare to believe and have the courage to take that first step.
Overall, A Wrinkle in Time is a great movie for the family. It is entertaining, thought-provoking and uplifting all at the same time. The film has a fantastic storyline with great visuals, acting, and music. It is a must-watch for everyone who loves science fiction or is a fan of the classic novel.
A Wrinkle in Time is a 2018 adventure movie with a runtime of 1 hour and 49 minutes. It has received moderate reviews from critics and viewers, who have given it an IMDb score of 4.3 and a MetaScore of 53.